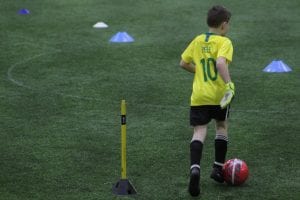 Dear Families,
Welcome back! I hope this message finds you all well and enjoying this beautiful day. I hope you have all had a WONDERFUL spring break! As you can all guess, my spring break was all about soccer, soccer, soccer! I can not wait to see all your little darlings tomorrow, I have missed them so much 🙂 Here is what's happening this week in kindergarten. Looking forward to an amazing April!
Mrs. Ross 🙂
Field Trip: Yay! Our field trip is here 🙂 Our trip to the Ann Arbor Hands on Museum is on Tuesday, April 9th 2019. Here are a few tips to help your child be prepared for the day:
*Be to school at 8:35am with a packed lunch (brown paper bag/plastic kroger bag) with their name on it! Students do not need money. Tennis shoes or something comfortable to walk around multiple floors is best!
*Chaperones: Please be to school on Tuesday by 9:00am to check into the office! Here is a list of the chaperones going on the BUS that have not had a chance yet this year. Ben and Antonia pulled one more from the bowl to join us. However, all other parents that volunteered can meet us there. We would LOVE to have you join us! make sure to say that you are a chaperone for us because you will be free 🙂  I have included a super cute video of my kiddos helping me pick another mom to ride the bus with us. They were THRILLED to do so! If anyone can not make it this Tuesday, please let us know as soon as possible so we can make arrangements and adjustments to our chaperones 🙂
-Jamel's mom
-Bradly's mom
-Nolan's mom
-Sebastian's dad
-Lukas's mom
-Carter's mom
*Video of Lottery 🙂
EDC1A728-C1A0-48CC-A804-B358BFFE5F6F
Spring Conferences: I have emailed 8 families to make arrangements to meet one more time this Wednesday. If you have not signed up yet please check your email and sign up for a time slot today! I will help out tomorrow and assign a time and send home reminders in folders tomorrow. Thank you for your time and checking in with your darling's growing progress1
Reading Logs: THANK YOU so much to all the students who returned their reading logs before break! This week we will find out what classes had the most reading minutes. we are in the running to possibly win a pizza party 🙂 
Homework: This week your child will receive a math game and a new math packet!
Popcorn: I believe popcorn Friday is on this week so bring those quarters! If anything changes I'll let your kiddos know after Thursday afternoon announcements.
Library check out: This week we will have check out so make sure books are back in the bags Monday night and ready to go Tuesday morning first thing!
Reading Packs: Make sure your child is spending about 10-15 minutes reading at night on Raz-Kids and the books, letters/words you find in the reading packs. This will help your child SO much reviewing their personal bags each night! All bags have been switched so make sure you child is practicing books they receive this week. All reading packs, Raz-Kids and personal books at home count toward March Reading Logs!
Spelling: -it word family continued: *kit, *sit, *pit, bit, hit, *fit, lit …..sight words: two, play
New Family: -ot word family will go home on Monday! Sight words: yes, as
-words with a * are definitely on the test, I will add two cold words to make a total of 6 words on the spelling test on Fridays. In addition there will be the two bonus "sight words of the week" to make sure we keep learning the sight words on the Dolch List!
LA Book: Tops and Bottoms, blends st, sp, sm, sk and informational books
Writing: Opinion Writing linked to book of the week (about what veggies we prefer "Tops or Bottoms")