Greetings room 111 families!
A special congratulations to Yara Nassour who has completed her PINK BOOKLET in kindergarten! Woohoo Yara way to go! She will be moving on to booklet #2 this week. Here is a picture of us having our special lunch date today. I am so proud of her and all my students working so hard on their sight words. It's time to turn on the heat!!!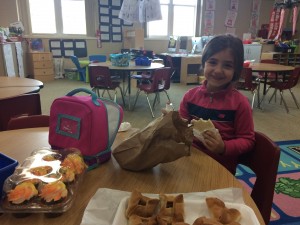 I hope you were are all out enjoying the beautiful Sunday weather with your families! It was a PERFECT DAY to take your child to the part and collect earth materials! As the month is coming to an end, a gentle reminder that their science project is due this Friday! We have already had some students turn it in thank you! We will enjoy sharing them this week. DON"T FORGET to draw a map of one of the parks you visit and answer the question: "Was that park clean? Did it have any garbage or graffiti on it?" Here is what you can expect from our busy schedule this week!
Although the weather is beginning to get warmer, please continue to check the weather every morning and send your child with the proper gloves, hats, coats if the weather dips down in temperature. Michigan can be crazy in April and May! Also, remember that students are not allowed to wear flip flops or open toed shoes and shoes that do not have a back supporting them for safety reasons.
*Important Dates: May 3rd and May 10th will be our last reading and math NWEA tests for the year. You can help your child practice their skills by reading every night, counting, practicing their addition and subtraction facts, sight word practice, rhyming practice and counting objects!
*Field Trip to the Zoo May 19th. I will announce the parent chaperones this week. I have given a few extra days for parent to hand the background checks in. There were SIX students who did not turn in their permission slips. Remember, I can not take your child on the bis with out your permission!
Word Family: -og (dog, bog, fog, hog, jog, log)
Sight words: make, his, him
Monday: Gym with Mrs. Fenner
Tuesday: Art with Mrs. Brown and music with Mrs. Wilder.
Wednesday: Computers with Mrs. Pantaleo
Thursday: Music with Mrs. Brown
Friday: Gym with Mrs. Fenner. Pink book sight word tests!