Greetings room 111 families! I hope you stayed warm this weekend and enjoyed the beautiful blanket of snow. Here is what you need to know for this very short week upon us:
Letter Study: Review of letters G g and V v
Number Study: Ways to make 10
Word Study: Review of all words! Spelling test on Tuesday
Monday: Homework packets will be collected and new ones will be handed out. They will be collected after break. Gym Class Make sure to wear sensible shoes or pack some if your child will be wearing snow boots to school!
Tuesday: Art and Music class.
Wed-Friday: NO SCHOOL! Have a wonderful break
School will resume next Monday on November 30th, 2015. Have a very Happy Thanksgiving. I for one am very thankful for my wonderful classroom and parents. Stay warm over the break.
*Mrs. Ross has finally figured out a way to send myself some pictures yay! Here are a few students using some tools to practice letter ID. Here they are tracing the letters inside a pencil box that is filled with salt or rice. This will also work very well with sand! You can use this for words as well if your child has a goal of "sight words".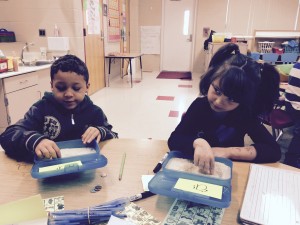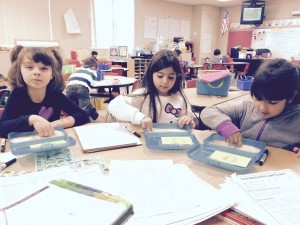 *This student is showing how we use white boards and finger space men during Writer's Workshop. First, we do our work on the practice board and then transfer our hard work onto the paper.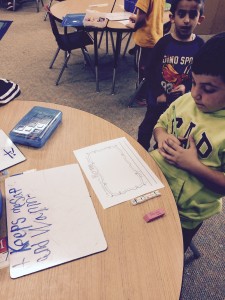 *This student is showing how we also write on the tables with dry erase markers to practice our letter ID. I hope your children don't come home and start writing all over the place eek! If you'd like to let them do this at home, I promise they will LOVE doing any work! Just put some clear plastic wrap over the table and the your child can write on that.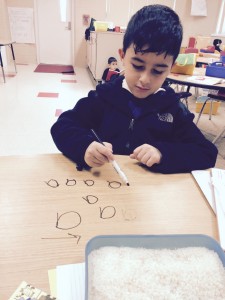 Science: Pushes and Pulls are still the focus! If you have any pictures of your child doing a push or a pull at home I'd love to share it on the blog. You can email them to me and I'll post it for the class to share during science.
Social Studies: we are still studying needs and wants. Over the break this is a great opportunity to show your child where needs and wants come from because we will begin talking about goods and services.
That's all for now. I'll send home any reminders on Tuesday if I think of more information you need to know!