Second grade artists have been "traveling" to the West Indies in music and art class.  They looked at the brightly colored houses and tropical trees from the West Indies.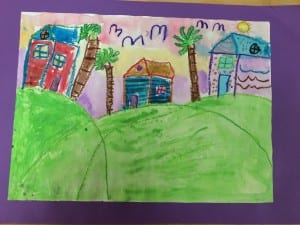 Then students created a drawing that showed some of these trees and houses in the foreground, middle ground, and background.  The further away an object is, the smaller it appears to be.
Some artists painted their finished drawings, and others colored with oil pastels.
The last step was to add a frame and to decorate the frame with geometric shapes.