The summative assessment for our unit on value requires students to select a drawing medium of their choice (charcoal, pencil, or watercolor) and create an image based on a still life located in the center of their table. Students were advise  d to take a photo of the still life to use as further reference. '
sample: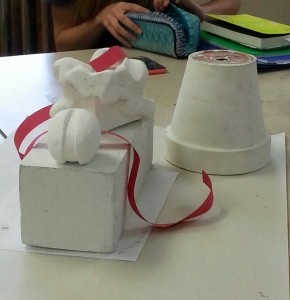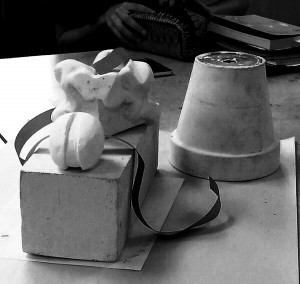 Students were then asked: How should this be graded in terms of effort, line/shape, value, color, and creativity.
As a group each class provided answers and developed the rubric for this summative assignment.
Objective: Using the medium of your choice, create a still life drawing that demonstrates your understanding of value and its application in the creative process.

Assignment:   Value-White Still Life with Ribbon

Student Name
Class
Date
 4
3
 2
1
 0
Student
Teacher

Value(4)

Value-Student has independently created an image that is an exceptional drawing that incorporates 4 or more values using a student selected medium, visual unity, and allows for clear light source.

Value- Finished image is an interesting drawing that incorporates at least 3 values, visual unity, and allows for clear light source.

Value – Finished image is a design that includes at least 2 allowing for slight contrast, and little unity.

 

 

Work is less than 80% complete

Student does not demonstrate proficiency in any of the criteria described or

assignment is not turned in

 

Creativity (8)

Color

 

Creativity/color –  Student has included details to add interest and included careful rendering of shadows.

Creativity/color –   Student has include some details to add interest and most shadow and shading is accurate.

 

Creativity/color – Details are not based on still life or do not add to the image. Shadows are in accurate and shading is not based on still life.

 

 . Work is less than 80% complete
Same as above
 
line (4)
Line/Shape Finished shows evidence of student's mastery understanding  shape, as evidenced by clear separation of objects and background resulting in strong contrast.
Line/ Shape -Finished image shows student understanding shape, as evidence as evidenced by objects that are easily identified. There are some areas of contrast.
Line/Shape Finished image shows students limited understanding of shape as evidenced inaccurate drawing of objects when compared to still life/ photo resulting little or no contrast.
Work is less than 80% complete
Same as above

Effort (4) Participation &

Effort 

Class participation –  Student used  time wisely during class periods, demonstrating exemplary classroom behavior, respect of materials, teacher and peers

Effort  – Student took time to develop an exceptional idea; turned in completed assignment on due date, excellent use of class time Craftsmanship – Work is skillfully neat, clean and has been completed following all of the assignment expectations.

Class participation –  Student used  time wisely during class periods, demonstrated appropriated classroom behavior, respected materials, teacher and peers

Effort  – Student took time to develop idea; turned in assignment on due date, good use of class time Craftsmanship -Work is neat, clean and has been completed following most of the assignment expectations.

Class participation –  Student did not use time wisely during class periods, demonstrated inappropriate classroom behavior, did not always respected materials, teacher and peers

Effort  – Student did not develop idea; turned in assignment  past due date, did not always use of class time well Craftsmanship –   Work has  been completed following some of the assignment expectations.

Not evident
Same as above