March 20-24, 2023
Math HW
Spelling Menu due 3.24
Read
Tuesday, March 21st is World Down Syndrome Day! To show support for the Down Syndrome community, we are encouraging staff and students to wear mismatched socks and pull them up over your pants for everyone to see! Let's celebrate our friends with Down Syndrome and show them our love by having the whole school participate!
Book Fair News
We need a few more hands to help make the Book Fair Run Smoothly!!
Parents, please consider volunteering for a few hours!
Sign up here!
Howe School PTA: March Bookfair (signupgenius.com)
Book Fair Preview – 3.21
Ramadan 2023
Fill out the approval form if your child will be fasting at school. Thank you.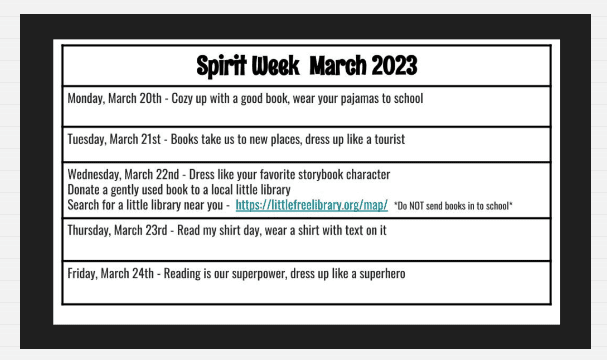 Wednesday Homework (HW)
Math
Lesson 7 Succeed: 31-34:  1b-d, 2 a-c, e-f, 3a-b
Spelling
Read
Thursday Homework (HW)
Math

Lesson 8 Succeed: 35-38:  1 b, 2a, 4a-c, 5a, 5c
Friday Homework (HW)
Read