Tuesday May 26, 2020
Parents:
Good morning families!
Can you believe it's almost June!? I am having a hard time believing it myself. This is the time of the school year when things start to get difficult on parents (and teachers!) When the weather turns beautiful… and gets hot outside… the kids kind of check out. Their brain does not want to engage as much and you might be noticing they are fighting with you about doing school work. I promise you, you're not alone in this! I am having the same challenge with my kids at home as well. Not to mention, this is also very typical behavior at this time of the school year in the classroom.
The bright side?? We're almost done! The finish line is in sight! So stick with me… power through… and I promise you will be glad you did!
This week is a short week since yesterday was a day off from school. Let your kids know they only have "3 school days" this week to get through and that should help motivate them.
Also please make sure to log your kids in to Happy Numbers today.
Here is a reminder of the Daily Activity without screens that is important to do every day as well.

5 to 10 Minutes
Plan for Work Time (playtime): Build your child's ability to organize their time by having them make a "plan" with you about what they would like to play with. Children do this everyday with us at school. It helps children learn to organize their thoughts. Adults make plans all the time to organize their thoughts (shopping lists are made before going to the grocery store, to do lists are made to help plan your day etc..).
Kids will tell you what they are planning to do/want to play with/how they will use toys at home.

1 hr.
Work time/Kids play WITHOUT ELECTRONICS Kids can use toys to pretend play, build, and create.

15 min
Clean Up: Kids clean up the mess they have made while playing. If you notice your child making too big of a mess during play, it's ok to remind them to clean up what they have already finished using before they move on to the next part of their plan.

5 to 10 min
Recall: Build your child's memory of events by having your child tell you what they did while they played (ask "tell me how you did that" or "what did you do next?")
Lunch
Prepare lunch: have your child help you prepare lunch. They can help with cooking/setting table- whatever seems appropriate for the meal time. At school the children normally assist with putting plates and utensils on the table as well as scooping their own food onto their plates and passing the food bowls to one another.
Kids:
Good morning friends! I hope you all got to spend a lot of time outside these past four days we haven't had online school. It has been very hot, but also great to be outside and enjoying the fresh air and sunshine!
Language, Literacy & Communication:
Today we have a new letter to learn! We are going to learn about the letter Nn. When you're practicing making the sound for the letter Nn, make sure you keep your lips NOT touching and that your grown up can see your teeth while you're making the sound. If you lips are touching, you're making the letter Mm sound instead. Check out this letter Nn video today!

I also have a story for you to listen to. Many of you really like dinosaurs, so I thought this would be a fun story! We have read Goldilocks and the Three Bears at school many times. This story is very similar, but also different. The person reading the story to you also has some really cool puppets! Enjoy!
Math:
We are going to combine our letters and numbers today to play a fun game! For this game you will need these items:
Paper
Marker
Something to use as place holders: You will need one item for each person who is playing. Some ideas are coins (a different coin for each person), a small, tiny toy (a different one for each person)
The foam dice I gave you
Your grown up will need to draw the "game board" on a piece of paper. It will look something like this: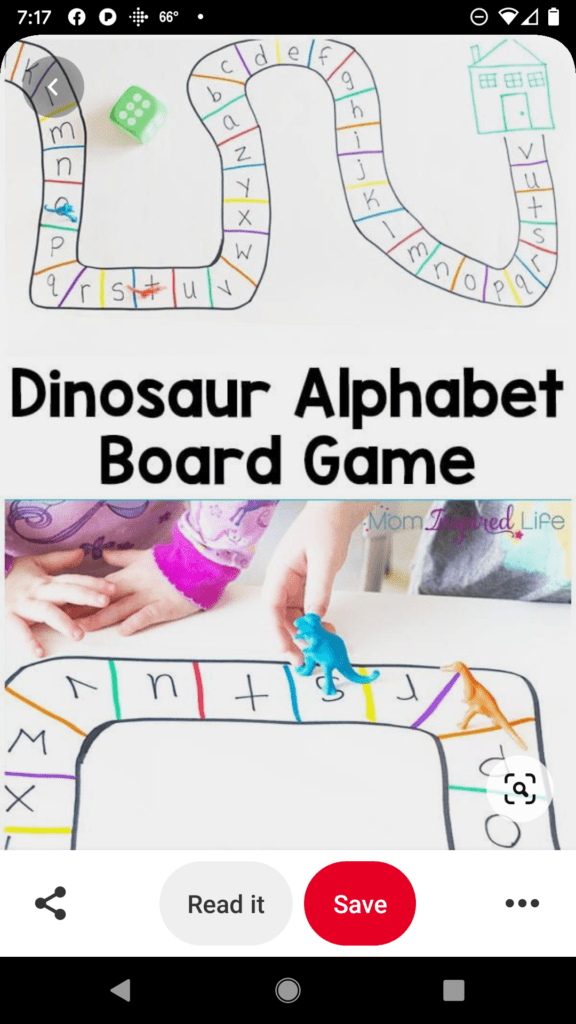 You can see the people playing the game in this picture, used little dinosaur toys as their place holders. (Note to grown ups: Please use all of the letters of the alphabet TWICE. First make each space an uppercase/capital letter, then make each space a lowercase letter. You will have 52 spaces total from start to finish.)
To play the game:
Roll one dice
Count the dots on the dice and move your place holder that same number of spaces. Say the name of the letter you land on. If you know the sound of the letter, make the sound of the letter too!
The next player takes their turn.
Repeat taking turns counting spaces and saying the name/sound of the letter until you get to the end of the game board.
Send me a picture of you playing your game today!
Friends!