Navigating Schoology
Most of the communication I send out about 8th Grade Science is regarding what is posted on Schoology for students. I just wanted to summarize what information is available on my Schoology course for parents who look to my iBlog for information.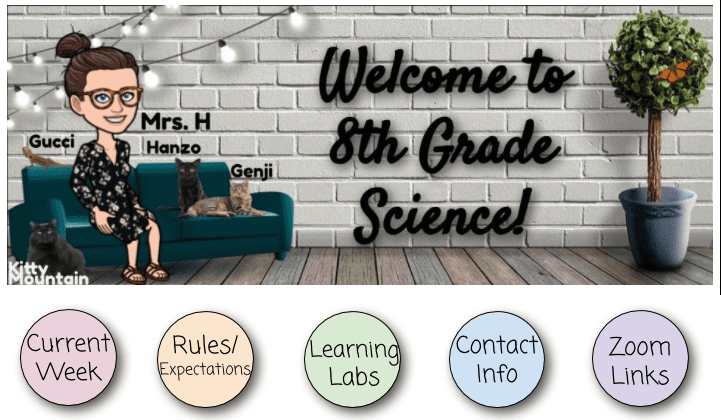 The Bitmoji banner contains 5 linked buttons along the bottom.
Current Week: This folder always contains the work from the week we are currently working on. Over the weekend, I move the previous week's files out to their own dated folder (e.g. "Week of Sept 8-11")
Rules / Expectations: This folder contains my classroom expectations, the Woodworth Code of Conduct, and Dearborn Public Schools' Online Learning Handbook.
Learning Labs: Clicking on this button will take you to the Learning Labs page. You will see this week's current Bitmoji classroom. Read the whiteboard to get all of the information you will need about Learning Labs including the days, times, and students who need to report. The link to the Learning Lab Zoom is also displayed in this image.
Contact Info: Here you will find the information you need to contact me.
Zoom Links: This page will tell you everything you need to know about live Zoom class: whether we meet on A days or B days, what time, the link and/or meeting ID and passcode, and the current month's calendar to find out which days we meet. ** Note: Zoom links will no longer be sent through email. Students should look on Schoology to get the link.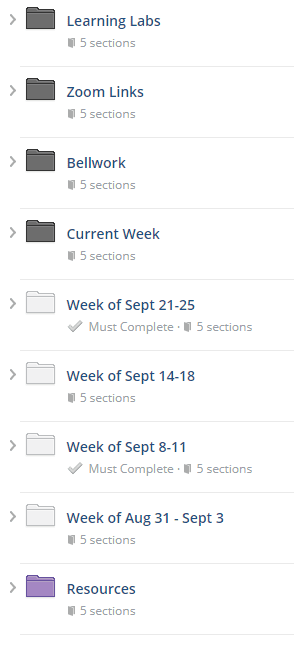 Dark Gray folders:
Learning Labs – See above for information about folder contents.
Zoom Links – See above for information about folder contents.
Bellwork – Students should access this folder every single time we meet on Zoom to complete that day's bellwork question. Bellwork is not posted on Asynchronous days.
Current Week – See above for information about folder contents.
White folders:
These dated folders contain materials that were assigned during the listed dates. For example, all Zoom classwork and Asynchronous assignments for September 8, 9, 10, and 11 are in "Week of Sept 8-11"
Purple folder:
This folder contains various materials such as contact info, the syllabus, rules and expectations, and a template students can use to keep track of their daily schedule.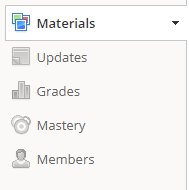 Materials is where the folders I described can be found.
Updates will occasionally contain important announcements.
Grades will show assignments the student should have completed as well as their grade if the assignment has been graded.

If the assignment shows "–" with no other symbols, the student has not submitted the assignment yet.
If the assignment shows "–" with a blue paper symbol next to it, the student has submitted the assignment and they are waiting for me to grade it.
If there is a green number next to the assignment, it is the student's grade.
Sometimes I will write comments especially if I took more than a couple of points from the student's score. If there is a comment it is displayed here.
Parents and students should pay particular attention to the grading category called "Miscellaneous."
Bellwork grades are also graded on Student Connect, and they are a daily expectation during Zoom meetings. If this section has a lot of 0/1 grades, speak to your child about completing bellwork when it is assigned. If the student participated and the bellwork has been graded, they should see 1/1.