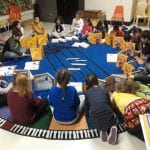 Hello everyone!
I miss all of you and hope you are well!
Montessori: On Monday April 20 all current Google Classroom for Music will be moving to a new location. Great job to everyone who has been participating and turning in the assignment on the current Google Classrooms. You will also find some fun videos and activities on my blog (Google search: Harden Blog) https://iblog.dearbornschools.org/hardens/ The new classes have been set up as follows:
K-2 Lower Elementary Montessori Class Code: qkw2tli
3-5 Upper Elementary Montessori Class Code: eetgr7e
Assignments will be posted on the new Google Classrooms every Wednesday afternoon and you will find the invitation to the new classrooms in your student email account. Please login and accept the new invite before Monday and we will be ready to go! I will also be meeting with you in some live Google Hangouts or Google Meets and can't wait to see you! Times and nickname codes will be posted on my blog so be sure to subsciribe.
Special Education:I hope you have enjoyed the activities that have been posted on my blog! https://iblog.dearbornschools.org/hardens/ I will continue to post activities every Wednesday afternoon so be sure to check in and subscribe. Howe Montessori and Center-Based Special Education students will be meeting together for our Google Hangouts. Parents can choose whichever grade level that you would like to attend (i.e. Upper Elementary or Lower Elementary). Times will be posted on the blog. I look forward to seeing you all!