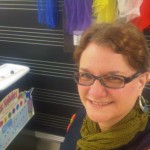 Things about your teacher:
-Lived in Venezuela for 6 years and worked as the Principal French Horn player in the Maracaibo Symphony Orchestra, Band Director in an American School, Professor of French Horn and Trumpet in 3 different Conservatories of Music in two different Venezuelan states.
Awards:
Outstanding Music Education student Oakland University
Music Scholarship to Oakland University
Target Teacher Scholarship Awardee
Professor of the Year – Conservatory of Music Jose Luis Paz
Full scholarship to University of Alabama for Music
-Master's Degree in Music Education from Oakland University 2006 Thesis entitled "Muslim Perspectives of Music Education In American Public Schools"
-Has taught music for more than 28 years
-Loves teaching….period!
Composer of children's music and Christian music
-Loves to play golf and can drive a golf ball over 200 yards…straight down the fairway!
Main instruments are French Horn and Trumpet
Can play several instruments
Favorite instruments to listen to: Harpsichord, Harp and Accoustic guitar.
Favorite Music: Gospel, Worship, World Music, especially Brazilian.
Former member of an award winning Gospel Choir
Active member of Worship Team