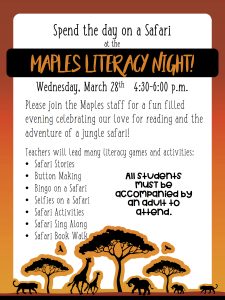 Spend the day on a Safari
at the
Wednesday, March 28th 4:30-6:00 p.m.
Please join the Maples staff for a fun filled
evening celebrating our love for reading and the
adventure of a jungle safari!
Teachers will lead many literacy games and activities:
• Safari Stories
• Button Making
• Bingo on a Safari
• Selfies on a Safari
• Safari Activities
• Safari Sing Along
• Safari Book Walk
All students
MUST be
accompanied by
an adult to
attend.
Maples Literacy Night!