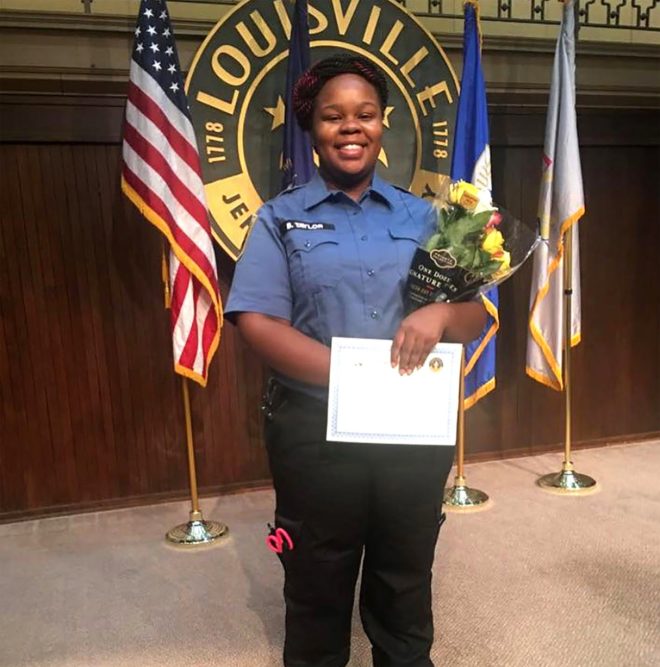 Did you know that in some parts of the United States police kill black people six times more often than they kill white people? Sad but true, the normal rate for the Midwest region is 2.9% higher concerning black fatalities by police. According to mappingpoliceviolence.org (11/18/2020), black people have been 28% of those killed by police in 2020 despite being only 13% of the population.
One of the tragic deaths by police in 2020 was Breonna Taylor. Breonna Taylor, a 26-year-old African American was shot and killed in her apartment home on March 13, 2020, in Louisville, Kentucky. Breonna helped elders by driving them to their appointments and served a big purpose in life.
Breonna Taylor
Breonna Taylor worked for the University of Louisville Heath as a full-time ER technician and was a former emergency medical technician.
Three white police officers (Jonathon Mattingly, Brett Hankison, and Myles Cosgrove) forced entry into the apartment as part of an investigation into drug-dealing operations.
Taylors boyfriend (Kenneth Walker), thought the officers were intruders and fired a warning shot. According to officials, it hit Mattingly in the leg.
In response, the officer fired 32 shots, hitting Breonna 6 times, and she was pronounced dead.
Ami Fofana, an African American woman stated, "Coming from me, an African American I think it's unfair because if a white person were in Brianna's place, they would have treated them differently."
Ms. Fofana replied, "I think the police could have talked to the family instead of being aggressive. They could have settled everything down and been calm.
After months of protests that turned Breonna Taylor's name into a national slogan against police violence, city officials agreed to pay her family $12 million. They also made changes aimed at preventing future deaths by officers.
According to Teeba Bilal, an 8th grade Journalist, "Instead of shooting Breonna Taylor, the police should have at least talked to her. I don't understand why violence is always the answer or almost any situation. Sitting down and talking to Breonna and her Boyfriend, or anyone would be better and more understanding".
Brett Hankison was charged with allegedly shooting recklessly into a neighboring apartment, but not charged with the shooting of Breonna Taylor. Meanwhile, the two other officers Jonathon Mattingly and Myles Cosgrove were not charged.
The world responded to Breonna Taylor's murder by taking to the streets in protest. Not only were there protests in Louisville, Kentucky but also in Texas, New York, California, and many countries around the world.
 Hussein Wehbe, a 7th-grader stated, "Protest is a way to get heard, to get together to show people and police that it's a big thing. In my opinion, racism will never end. People are always going to think differently of others because of their skin color, how they speak, how they look, etc., But why?"
General Daniel Cameron, an American politician serving as the 51st Attorney General of Kentucky explained that no police officers will be charged with Breonna's death. This means no police officers are going to jail for killing an innocent woman.
General Cameron decided the officers had the right to act in self-defense after Walker fired first. Although, Breonna's family was paid $12 million, does it solve what happened to Breonna?
To conclude, Breonna Taylor was not supposed to die that night. She was a kind soul who always wanted to help people in need. The fear of being killed by police when you did nothing wrong, shouldn't be a possibility.
African Americans in America are in a position that is frankly terrifying. Apparently, African Americans have fewer rights that police officers are bound to respect. All people deserve to be treated equally. America needs to realize that racism is never in style, it's always wrong.
Zahraa Chehade
8th grade Journalism