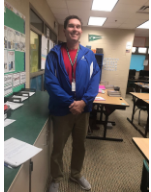 As a teacher students depend on you and you will have a ton of responsibility. I know one teacher that has showed bravery and responsibility throughout the years, Steven Drinkert.
     He's a swim coach and a Language Arts teacher. Mr. Drinkert works at Unis middle school. He has 4 kids and also takes care of his niece.
      I asked Mr.Drinkert what got him interested in swimming he said, "I teached swimming for a little while, then decided to start coaching. I've been coaching for over 22 years."
      I'm sure coaching has changed his life drastically. He said, "It taught me to continue to work hard and push swimmers." He works at Birmingham Bloomfield Atlantis. He has been working there for 22 years.
    Since Drinkert has been coaching for a very long time I think he would be very wise and have very good advice. I asked him if he has any advice that he would give to anyone that is swimming. He responded with this, "The effort that you put in each day will reflect upon you later in life."
    Usually if you're coaching a sport or just being a teacher in general you would hope no injuries happen. Well, I thought that Drinkert being a swim coach would have seen a few kids with some injuries. I asked him to explain a time where he had to help a student during an accident.
He told me that "There was a boy that was 9 years old, he wanted to swim 2 lengths which is 50 yards with no breath, he made it 45 yards and then had a seizure. The boy sank to the bottom of the pool. I jumped in fully clothed and pulled the boy up. I pulled him on deck. There was an adult. The adult gave him one breath and the boy spouted out water, inhaled deeply and went unconscious. Then, paramedics arrived."
I had asked him what it felt like and he said, "It took 5 minutes but it felt like an hour, time flew by very fast".
I think this goes to show that Drinkert is very brave and he does care about his students whether it be swimming or school.
By: Razan Alfurati