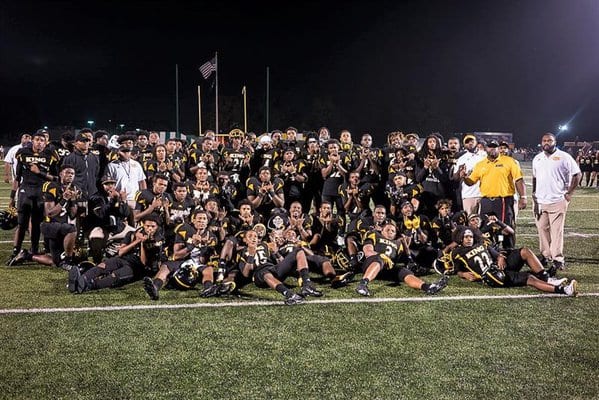 In 2018, Martin Luther King Jr. high school won state champs with an amazing record of 12-2. Everyone including Terance Mathis, fan of The MLK High School, knew that they were the winning team from when he first saw them play during the summer. Marcus Lee, father of Marshawn Lee, realized that they were going to have a state championship from their first game  when they lost to Muskegon. Marcus realized how large the improvement was from when they lost against Muskegon in the beginning of the season to when they won city champions against Muskegon.
Marcus Lee always tried to keep himself supported with the MLK High School by getting involved with donations and sports. "Whatever they ask me to do anything I'll be there quickly" Marcus Lee said. Marcus really enjoyed watching kids playing different sports and working together. Marcus and other people realize how the MLK football team were working like an oral machine and started not to only play for winning but to play for the experience.
Even though fans and parents didn't attend the MLK high school, they still supported it more than ever to help their children be successful. Terance Mathis was always a fan of football, in the past he played football. Currently, he coaches his own team. Marcus Lee had a best friend that played for the Arizona Cardinals for 12 years. Marcus Lee always had his children to be active in school, his daughters were
cheerleaders and his son played football.
With Muskegon having a better record of 13-1 and being ranked 2 in all the high school football teams in Michigan while MLK was ranked 5, MLK high school still worked hard and never gave up to win.People believe that MLK won against Muskegon because they have a larger numbers of players on their football team, and when they see them play they put what they said aside and believe that they win because they're good. Mathis believes that the MLK was more superior over Muskegon because they had more athletes and that they executed a lot of games.
"There were times I was happy but I can't explain how happy I felt when the MLK won the state championship" said Terance Mathis. Overall the MLK and Muskegon high school football teams are great teams.
-Zahra Bazzi