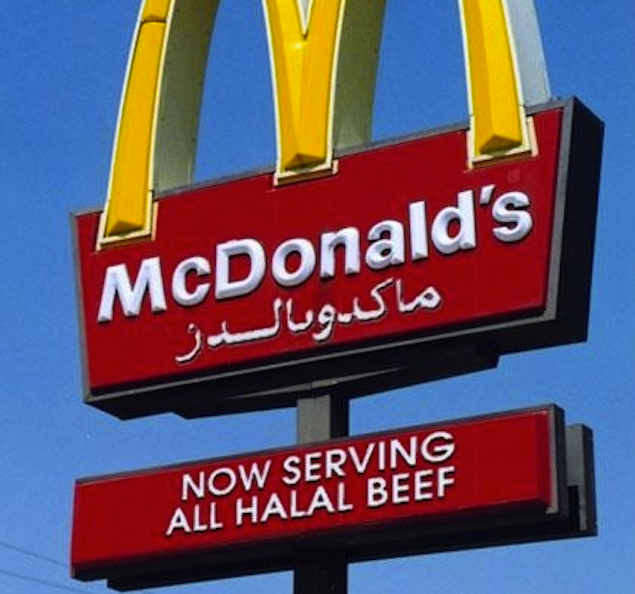 "I felt disgusted knowing I ate  Non-Halal food," said Fatima Mustapha, a student at Unis Middle School.
There have been only two McDonald's restaurants in the United States  that has offered Halal food. Both were located in East Dearborn, Michigan which has a sizable population of Arab-American Muslims.
At the McDonald's Ford Road location, a sign in Arabic and English is now on the  drive-through menu informing customers that Halal items are no longer available.
But after a  lawsuit that accused the restaurant  of selling non-Halal items advertised as Halal, McDonald's has took its Halal Chicken McNuggets and Halal McChicken sandwiches off the menu. The move brings to an end a unique product that made the two McDonald's restaurants in Dearborn popular with Muslims.
Ahmed Ahmed, used his detective skills after purchasing a Halal Chicken Sandwich.  He discovered that one of the Dearborn locations wasn't complying with Islamic dietary laws. This McDonald's franchise gets its products from an approved Halal Chicken provider, but when it ran out, it start substituting Non-Halal products and figured nobody would notice. Ahmed's investigation paid off.
McDonald's and Finley's Management Company (franchise owners) agreed to pay $700,000 to members of the Muslim Community to settle allegations concernng false advertisements that  its food was being prepared according to Islamic dietary law. The money will be split between customer Ahmed  Ahmed, a Detroit health clinic, and the Arab American National Museum in Dearborn.
" Ew, I was eating pink slime this whole time," said Hussein Saleh. Many Muslims feel violated by the lies the McDonald's owners told.
Latifah Jomaa
Unis School Journalist