Between yesterday and today I found 24 more eggs in my garden!
I clip a little bit off of the bottom of the leaves to make the "stem" long enough to put through holes punched in the lid of this condiment cup of water. Sometimes I don't clip the leaf off especially if the egg is really far down, like the darkest leaf you see here.
I don't throw away the clippings if I have caterpillars, though. They aren't picky. They just like fresh leaves! They stay fresh for a day or two after being clipped up like this and the caterpillars will eat some of it up so that it's not wasted. 🙂
So that leads me to the next part of my routine. The leafs from our other tiny caterpillars and the cup they are stuck in are in need of cleaning. Look how gross…
The caterpillars have eaten holes all throughout the leaves, leaving not much for them to eat off of it anymore. Some of the leaves are crunchy and useless. The water is gross because their frass (or poop!) has fallen into the holes of the lid into the water and stained it murky brown. Also, the leaves are not meant to stay in water for a long time… they began to rot. Every few days, I take out all my condiment cups and clean them out.
I take off any leftover milkweed. Sometimes I have to really check it all to make sure there's no caterpillars hiding in it. These caterpillars I knew for sure were big enough to see so I just grabbed the branch and placed it on top of my clippings.
Since they are just clippings off of leaves there is no reason to put them in water. Sometime later this week when these clippings are eaten or dried up, I will grab a couple of full leaves from my garden and trim them and put them in water to feed the caterpillars from.
At some point as they get larger, they will eat a whole leaf within a few minutes, and then it's not necessary to put the leaves in water. Actually, when I get caterpillars out of those 24 eggs, they will eat through the milkweed so fast that I could put an entire plant in there and it will be eaten up in no time at all!
Jeff and I are taking the kids up to northern Michigan in about a week. By the time this group of eggs' caterpillars are big enough to eat that much I will be out of town. I will take them with me and thankfully, up north, there is TONS of milkweed! It is native to Michigan and spreads easily by root and by seeds so you will see it all along the highways and roads up north, and alongside all of the lakes.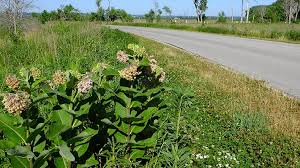 Actually, you see milkweed all along the highways here, too. Since those areas don't get treated with pesticides, the milkweed survives really easily. It only gets mowed once in a while, too. Great habitat for butterflies!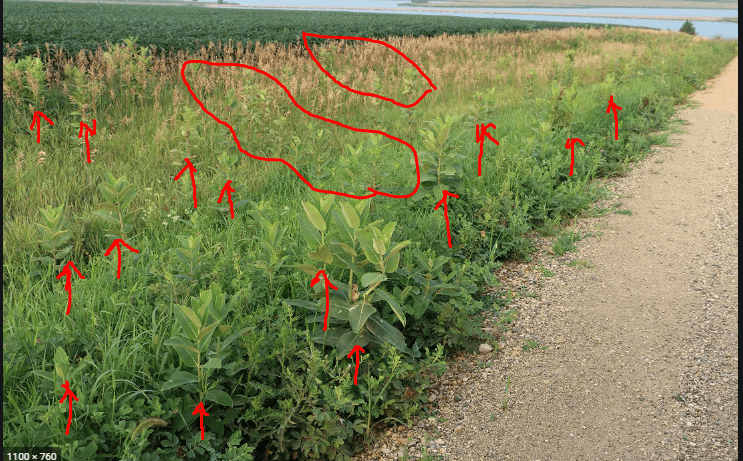 It's really easy to find up north though, like you can see above, and I'll have plenty of food to offer them without ruining the plants in my yard. 🙂
Finally, I snapped a picture from standing above my aquarium. I know it's hard to see, but 3 stages out of 4 of the stages of their life cycle are in my tank right now. Eggs, larvae (caterpillars) and pupa (chrysalis). Here is the complete life cycle:
And here is my tank: