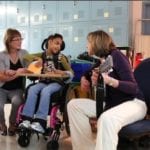 This week we will learn a new song with sign language called "One Small Voice." Listen to the song a few times then record you and your family (using Screencastify link) doing the sign language together while the video is playing from 1:57-END. Make sure that your face and hands can be clearly seen in the video. I look forward to seeing you all!
One Small Voice Song: https://www.youtube.com/watch?v=1GBi79RbbCM
Screencastify Recording: https://app.screencastify.com/record/6-jcBkcNMuXZZWvk1f78V
If the One Small Voice video does not work, try watching it from a smart Phone or computer that is not logged into the district account.
Extra Fun Activities: https://docs.google.com/presentation/d/1rkoydNSizQM-CGu_ROaZ9_8Q7YAq3x4mDbCXrzrjHek/edit?usp=sharing