Welcome summer! 
Whether you had class indoors or outdoors, you've worked hard and are no doubt looking forward to a relaxing and/or adventurous vacation!
Much appreciation goes to those who used and helped shape the Courtyard into a pleasant and workable space.
Special recognition goes to the 8th Grade Student Council who, along with Mrs. Lessel, decided on the keepsake they wanted to donate to the Courtyard.  We hope they enjoy their summer vacation and wish them all the best in High School!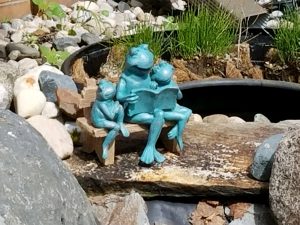 "Here today, up and off to somewhere else tomorrow! Travel, change, interest, excitement! The whole world before you, and a horizon that's always changing!" 
― Kenneth Grahame, The Wind in the Willows
Thanks also goes to Mr. Renko for donating a bird feeder.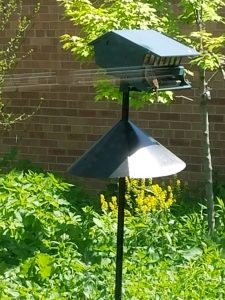 According to the  Michigan Bird Records Committee (MBRC), there are 450 species included in the official list of birds that are associated with Michigan.  The one pictured here is a sparrow.
Elsewhere in the Courtyard, the summer blooms are arriving:
rose                                   phlox                                sweet william
The Girl Scouts arrived and did a great job pulling weeds and planting decorative flowers at the edge of the butterfly garden.  Pizza was provided for them as well so they had plenty of energy for completing their task!
To keep the Courtyard looking it's best requires a lot of dedication and work.  For that we wish to especially thank Mrs. Ruth Tozzi and Mrs. Nicole Mark.  Their consistent effort maintaining, pruning, weeding, and planting, continue to make the Courtyard a place we can all enjoy.  If you wish to volunteer to help over the summer, please sign up here:
 https://www.signupgenius.com/go/508084aa5ab22a1f94-natural  or call Mrs. Tozzi to set up a time that works.
If  you would like to donate a plant, currently the Courtyard is asking for columbine and trumpet vines.
Thank you very much and have a great summer!
~ Courtyard Committee~