"Thank You" to Emily Maginity and her mom, Lynn Maginity, for helping to keep the courtyard looking beautiful this summer. Emily said that she helped in the courtyard by pulling weeds and getting rid of some of the dead flowers. She also started growing a lemon tree at home this summer!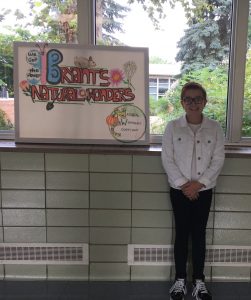 Pictured above is Emily with the Bryant's Natural Wonders sign.
We hope you all had a wonderful summer!  We are happy to have you at Bryant Middle School and can't wait to see you in the courtyard!