With the guidance of Mrs. Gass, four students from Mrs. Doner's enrichment class garden-sculpted an old wheelbarrow.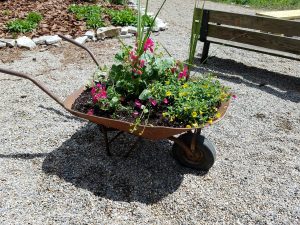 First, they asked Mr. Mathers to drill some holes in the bottom of the wheelbarrow to drain excess water.  Then,  some of the students from the enrichment class added small stones for extra drainage.  Too much water can kill the plants.
Next, they poured in the potting soil and arranged the plants until they were happy with the arrangement BEFORE taking them out of their pots. They finished with a work of art!
Other students from Mrs. Doner's enrichment class helped paint benches in the Courtyard.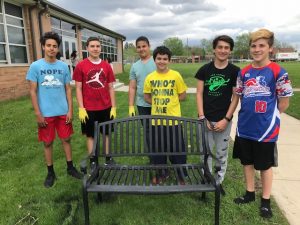 While out in the Courtyard one afternoon, Mrs. Duquette and her class spotted ducks in the pond…
and finches and cardinals in the trees…
Meanwhile~
Mrs. Lessel's Student Council has taken a leadership role in encouraging the use of the Courtyard an outdoor classroom. They have been discussing with Mrs. Tozzi and Mrs. Mark ideas for how they can best contribute to such use.  We look forward to their ideas and input.
We continue to encourage your use of the Courtyard as an outdoor classroom!
Enjoy class outside ~
Enjoy the Warm Weather.