Calling All Bryant Families! We are looking for volunteers to help maintain the Bryant Natural Wonders Courtyard this summer. Will you have an hour or two to spare? If you and your family enjoy being outside and want to take a part in enjoying and keeping this outdoor classroom looking good, email Ruth Tozzi at rutht44@yahoo.com or sign up with the sign-up genius provided by the PTA:  VOLUNTEER SIGN-UP
https://www.signupgenius.com/go/508084aa5ab22a1f94-natural
Ruth attended the last PTA meeting and some parents have already volunteered to help! Mrs. Tozzi talked about the history of the Courtyard. She also talked about its present state and future plans.
She reiterated that the more volunteers we have, the more we can make a difference in the wonderful resource! Thank you for your interest and participation!
Last week, Mr. Brown's advanced math class took full advantage of a brief break between morning and afternoon M-Step testing. They measured another area of the Courtyard for more pea gravel.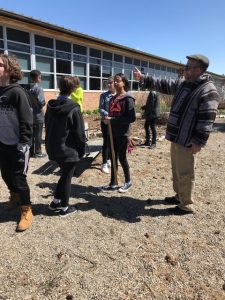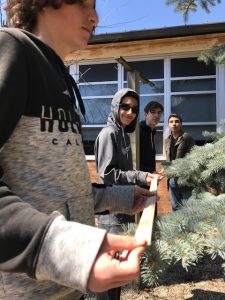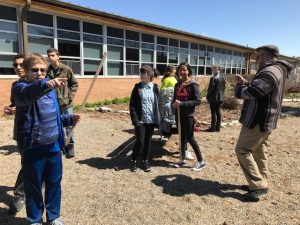 The pea gravel was ordered by Mrs. Tozzi and spread on Friday by strong staff members including Mr. Borg, Mr. Blake, Mr. Kerr, and Mr. Kettel who volunteered their time after school. Flower beds were cleaned up and flowers planted by Mrs. Doner, Mrs. Tozzi, Mrs. Debiasi and Mrs. Mark.
Thank you, Thank YOU, THANK YOU!
Mrs. Doner's enrichment class will be spending time in the courtyard this week spreading mulch in the flower beds. They may also take advantage of the warm weather this week by doing their classroom presentations in the Courtyard.
If you go out to the Courtyard you will see trees, bushes and flowers beginning to bud and bloom. Below is a decorative peach (decorative only, the peaches are inedible!)
The pond has been drained and refilled. Can anyone answer this question: How does a leach make its way into a man-made pond with no water source besides a garden hose and rain? Ask Mrs. Mark why she wants to know.
Also, a Girl scout troop is interested in helping on May 18. They will assist with planting new plants that attract butterflies.
It seems that Spring is finally here!