Not only has it been unexpectedly cold outside, but Bryant school and many of the residences in the community have been without power.
If you're wondering why the weather has been so icy when it should be spring, Dale Eck from the Global Forecast Center at the Weather Channel offers an explanation:
After last Friday's wonderful warm up, Michigan is experiencing a strong storm (blizzard) coming out of the Rockies, over the Northern Plains and Great Lakes, bringing more cold weather for the week ahead.  Combined with last week's Canadian just streams 'dislodging the cold air from the poles", Michigan spring seems to be on hold and Courtyard activities temporarily 'put on ice'!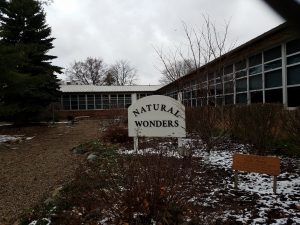 As the state of Courtyard is being assessed, Ruth Tozzi reported that one of the white pine trees had to be removed.  According to Mrs. Tozzi, "the pine tree disease that caused it's demise, is "rust" spore.  It starts at the end of the branch and works it's way through the tree." For more information about this particular problem see the following site:
https://www.fs.fed.us/rm/highelevationwhitepines/Threats/blister-rust-threat.htm
We're glad to say that one white pine still stands!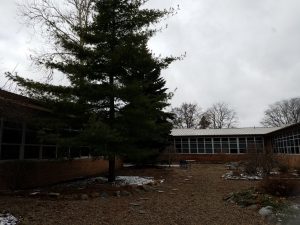 ~ The Courtyard Committee