Here are some paper plate activities to work on gross motor skills! Have fun 🙂
Plate stacking: Stack paper plates on top of your child's head. Have them stand on one leg for 10 seconds (or as long as they can) while keeping the plates on their head. Try having them walk forwards or backwards keeping the plates on their heads.
2. Plate skating: Stand on two paper plates (one under each foot). Skate like you are on ice. It works on both hardwood and carpet. It is better with bare feet but if you prefer socks, tape the plates to your feet.
3. Name Hop: Write your child's name across a set of plates (one letter on each plate). Place them in a line or in a scattered pattern. Have your child jump from letter to letter to spell their name. *Make sure the distance between the plates is not too far but not too close.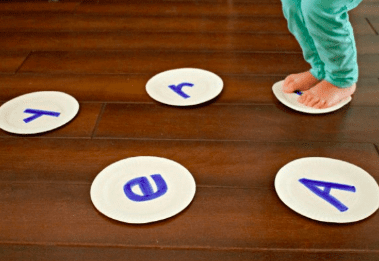 5. Ring toss: Cut a hole in the center of a few plates. Use a cylindrical household item as a post to toss the plates onto. Some examples of posts you can use:
Paper towel roll taped to a plate
Broom Handle
Paper towel holder
Water bottle (filled to stay upright)
Shampoo bottle