Pre-writing
Pre-writing skills are the building blocks for efficient handwriting. Essentially, they are the lines, shapes, and strokes kids need to master before they print the alphabet. They occur in a developmental sequence based on a child's age.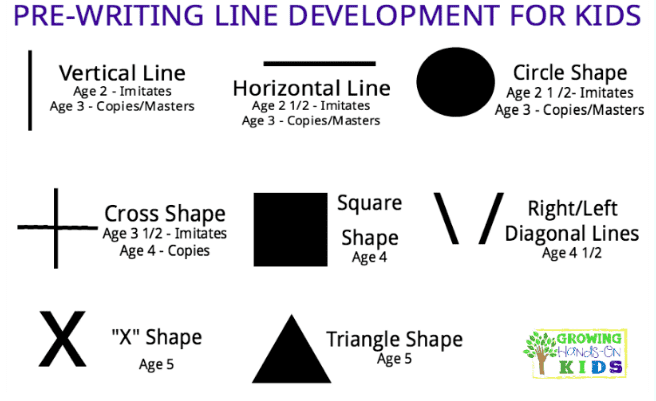 Pre-writing activity ideas:
Sensory writing: Use a finger or a paint brush. Create shapes/strokes in material such as shaving cream, whipped cream, sand, rice, beans, salt, etc!
Sticker tracing: Draw pre-writing strokes on a piece of paper (lines, circle, square, triangle, cross). Have your child peel off stickers and place them on the lines.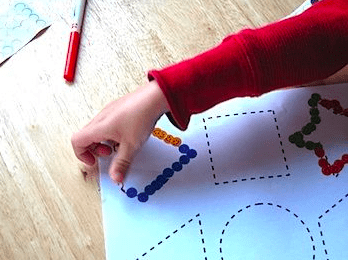 Food writing: Use food in your house to create or trace pre-writing strokes. Examples- M&Ms, skittles, mini marshmallows, noodles. beans, blueberries, cheerios, what ever you can find!
Lava Paper
Lava paper is a tool to help improve handwriting. It helps with keeping proper alignment (where the letters sit) when writing. It really needs to be printed in color at least at first. If you don't have color printing, you can use colored pencils to print out a black and white version and then make the sky blue, brown dirt, and red lava dotted middle line.
RULES: Bees attack ANYTHING that goes above the skyline (because nothing ever should), the lava burns anyone that goes through that shouldn't (only tall letters get to go through, all baby letters have to stay below the lava line), and worms attack if any letter goes below the dirt, except tails. Worms love tails, they especially love the swingy ones like g! They get really sad if you have a tail letter and don't let it go under the dirt.
The good news is, if you DO make a mistake, you can save your letter right away with your eraser superpower!! Aughh!!!! Bee is coming!! Aughh!! Erase erase erase!! Oh phew you saved your letter 🙂