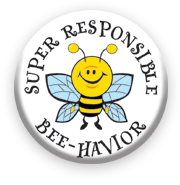 Badges (also called buttons) are a great and inexpensive way to reward students or to sell for a fundraiser.  There are two sizes and each comes in Pin back or Magnet back for the same price:
– Standard 2-1/4" badges are 50¢ each.
– Large 3" badges are 65¢ each.
Badge making is simple and quick – it takes less than a minute to make one. The Graphics Lab has 3 badge makers and 2 circle cutters to make Standard 2-1/4" badges and Large 3" badges. There is also a paper template for both sizes (see above) – so you can plan ahead for your club design OR have students color & decorate the right size personalized design. Full color originals can be run off on the color copier for 15 cents per sheet, which is only an additional 2.5 cents to 4 cents per badge!
The strong magnets stick to lockers & refrigerators and aren't considered dangerous for younger children.  Make either style button for Mother's Day/Father's Day presents, for birthdays, for field trips, for clubs, and as a trade item in team competitions. The Graphics Lab has also loaned out the standard badge maker to Dearborn elementary schools for the students to make buttons during Literacy Night.
Stop by the Graphics Lab anytime to make a few badges . . . or to be inspired by the badge examples!