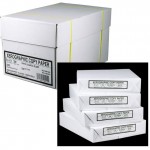 There is an art to caring for the paper that goes into copy machines. Paper needs to be stored in the wrapper AND in the paper box for as long as possible.  Leaving paper sitting around unwrapped or unboxed causes it to absorb moisture very quickly – resulting in jamming throughout the copy machine.  Always store paper flat, NEVER store a ream of paper on its side or it will have a permanent curl!!
Most people don't realize that sheets of copy paper actually have a top and a bottom.  Place the ream of paper on a table with the seam side of the wrapper facing up and unwrap the paper. Now, keeping the seam side of the paper stack face up, put the paper into the copier paper drawer.  This especially makes a difference when copying 2-sided material – by loading the paper with the correct side up, you will avoid jamming the copier.
If you are having a lot of copier jams, try flipping the paper over OR try replacing the paper with fresh paper . . . before you call the copier repairman!