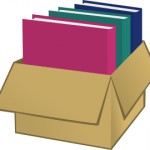 CAN I DROP OFF COPY JOBS? The answer: Yes! Save wear and tear on school staff AND the school copier. Both teachers and administrators can drop off copy jobs or send them through interschool mail to the Graphics Lab. Turn around time ranges from a couple of hours to a few days, depending on quantity needed and on copy machine traffic . . . and sometimes can be finished by the time your meeting in the ASC building is over. 🙂 Please be sure that all copyright approvals are in place before you bring the job in.
Cost for copies is 4¢ per side – which includes white, pastel colors, and punched paper. Adding a pastel color cover to a stapled packet is no extra charge and makes a great impact!
Call Carol for a cost estimate or to find out what the turn around time will be on your particular copy job.