Although this is a fluid situation, the following is what is scheduled for 7th grade
Monday, August 31: I will be contacting myAdvisory classes by phone. Please answer the call!
Tuesday, Sept. 1: All students will follow a 1/2 day schedule. Each class meets for 22 minutes on ZOOM. Here's the schedule you will follow: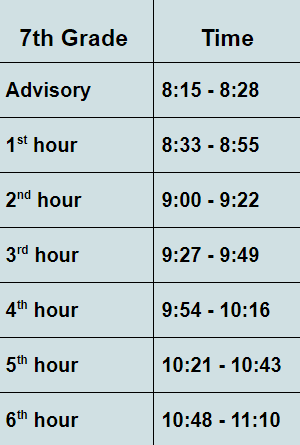 Wednesday, Sept. 2: No zoom meetings for 7th graders. All of the 7th grade teachers will be at Bryant handing out materials. I will be there from 8:30-11:30. Please come to the designated area to pick up materials and say "Hi!" to your teachers.
Thursday, Sept. 3: 1/2 day schedule with zoom meetings using the same schedule as Tuesday.
Friday- no school. Have a nice weekend.
Please email me if you ever have any questions. This is a trying time for all of us; we're all in this together.
Kathy Duquette
duquetk@dearbornschools.org
duquetk@dearbornschools.org