Literacy Acitvity
The letter of the week is Rr. Watch the following link about the letter Rr. Then practice writing the letter R.. First write the uppercase R five times and the lowercase r five times.
Math Activity
Today we are practicing some math skills. For today's activity you will need:
1-3 pieces of blank paper
markers,crayons,or anything to write with
scissors
The first thing you need to do is take your paper and fold it to make about 16 squares.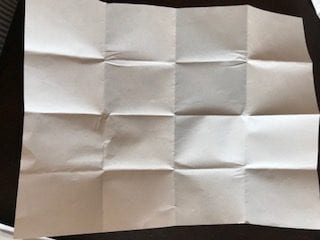 Next you are going to write numbers and counting dots to match the numbers, like this: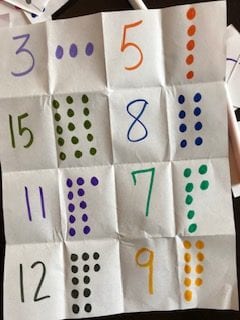 Have your child cut on the creased lines so you have two groups… one with counting dots and the other group with the numbers, like this: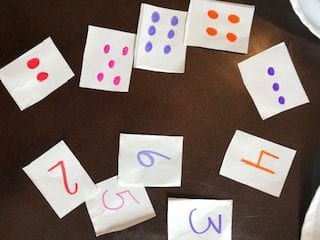 So now your child will match the number card with the correct amount of counting dots.
Please be sure to start with numbers 1-5 then move to 6-10 and to challenge children who are ready, you can add higher numbers like 15, 22, etc.
Also to challenge students who are showing interest in reading you can add the number word and have them match the number word to the correct number and counting dots, like this: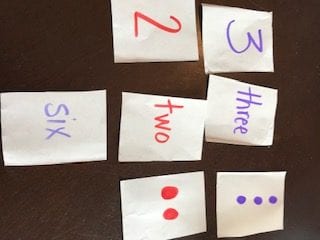 Please remember to only challenge your children with higher numbers or number words if they are showing that they can count and identify numbers from 1-10 easily and consistently.
REMEMBER TO KEEP THESE CARDS TO USE LATER AT ANYTIME! IT'S IMPORTANT FOR CHILDREN TO KEEP PRACTICING SKILLS!
Work Time
Plan for Work Time (playtime): Build your child's ability to organize their time by having them make a "plan" with you about what they would like to play with. Children do this everyday with us at school. It helps children learn to organize their thoughts. Adults make plans all the time to organize their thoughts (shopping lists are made before going to the grocery store, to do lists are made to help plan your day etc..).
Kids will tell you what they are planning to do/want to play with/how they will use toys at home. التخطيط لوقت العمل ( وقت اللعب): ساعد طفلك على بناء مهارة تنظيم الوقت بوضع خطة معهم عن لعبهم. هذا ما كان يفعله كل الطلاب كل يوم في المدرسة. هذا يساعد الأولاد على تنظيم أفكارهم. الأهل أيضا يضعون خطط دائما لتنظيم أفكارهم مثل قائمة التسوق قبل الذهاب إلى المتجر, كتابة القوائم تساعد على تنظيم اليوم….. الأولاد سوف يخبروكم ما هي خطتهم/ ماذا سيلعبون/ مع من سيلعبون/ ماذا سيستخدمون من أدوات في لعبهم.
12:10-1:10or1 hr.
Work Time: Kids play WITHOUT ELECTRONICS Kids can use toys to pretend play, build, and create.وقت العمل : يجب أن لا يستعمل الأولاد الإلكترونيات . يستطيع الأولاد استخدام الألعاب التي تساعدهم في التخيل و البناء و الإبداع
1:10-1:25or15 min
Clean Up: Kids clean up the mess they have made while playing.وقت التنظيف: ينظف الأولاد الفوضى التي نتجت عن لعبهم.
1:25-1:35or5 to 10 min
Recall: Build your child's memory of events by having your child tell you what they did while they played (ask "tell me how you did that" or "what did you do next?")وقت التذكر: بناء ذاكرة الأولاد و مراجعة الأحداث عن طريق جعل طفلك يعيد سرد ما قام به خلال وقت اللعب( اسال طفلك: اخبرني كيف قمت بذلك؟ أو ماذا فعلت بعد ذلك؟)
Lunch or Dinner
Prepare lunch: have your child help you prepare lunch. They can help with cooking/setting tables- whatever seems appropriate for the meal time.تجهيز وجبة الطعام: اعط الفرصة لطفلك بمساعدتك بتجهيز الغداء. الأولاد يستطيعون المساعدة بالطبخ/ تجهيز الطاولة-
Book Activity
Go through the books in your house and find as many of the things on this list as you can! They can all be in the same book or more than one book. Send me pictures of your book scavenger hunt!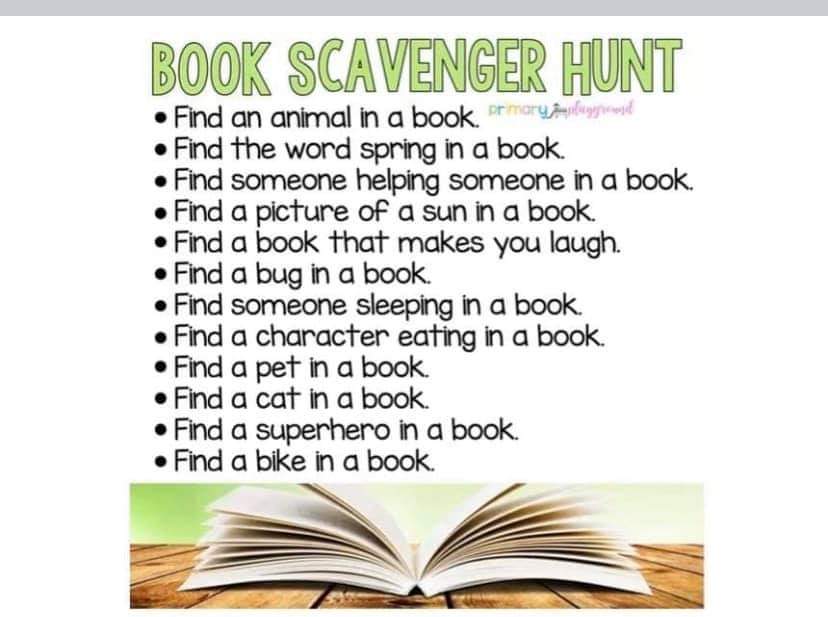 Read Aloud
Happy Ramadan! Before listening you can ask your children what they already know about Ramadan. Then after the story ask what they learned about Ramadan that maybe they didn't know before. Talk about the similarities between the story and your own experiences.
Movement
It is going to be a beautiful day today! Put on your jacket and make time to play in your backyard or go for a walk with mom and dad.
Reminders
My office hours will be 10:00am-3:00pm Monday-Thursday. This is the time I will be answering emails, making phone calls, etc. If you message me earlier in the day I will reply between 10:00am and 3:00pm If you message me after 3:00pm I will reply the next day between 10:00am and 3:00pm.
It is very important when your child completes an activity that you send me a picture. Or if you are not comfortable sending a picture you could send me an email discussing the activity. We will be keeping track of activities and participation! I can't wait to see your pictures!
Have a great day!
Mrs. Stawara
My email: stawark@dearbornschools.org