Office Hours
My office hours will be 10:00am-3:00pm Monday-Thursday. This is the time I will be answering emails, making phone calls, etc. If you message me earlier in the day I will reply between 10:00am and 3:00pm If you message me after 3:00pm I will reply the next day between 10:00am and 3:00pm.
Class Video Chat
Thank you for your patience as we all figure out this new technology! Our first class video chat will be next Thursday. (Thursday, April 30) at 2pm. Mrs. Hamid and I are so excited to see everyone's faces and hear your voices! This will be our practice so we can all figure out how to use the website. We will have weekly virtual class meetings on Thursdays at 2pm for the remainder of the school year.
Due to security concerns the district does not want us using Zoom, we will be using google meets for our virtual class meetings. Google meets can be used on a phone, ipad, or computer. I tested it out on all of my devices first to make sure. On your phone or ipad you can access it from the internet browser or download the app. I downloaded the app because I felt it was easier.
To access Google Meet
In a web browser, enter https://meet.google.com.
Click Join or start a meeting.
Enter a nickname – I will send the nickname code out on Remind before the start of the meetings.
If you need help with Google Meet message me and I can help you.
Helpful Information
Fatima's mom shared a link for free educational games that can be used with your children. Thank you Mrs. Fouani for sharing!
https://www.edmentum.com/support2020
I just wanted to share that Study Island is free for 1 year. They don't even ask for payment information.The link is right above this text. You can add up to 5 kids per family. I will also attach a photo. Scroll down to this area "Standards-Based Practice for Families"
The Dearborn Public Library offers free links for educational websites. Thay are also offering temporary library cards if you do not have one. There is a link for the Dearborn Public Library on my blog page.
2. I wanted to let you know there is an option on our blog for translation.
Step 1… Go to our classroom iBlog.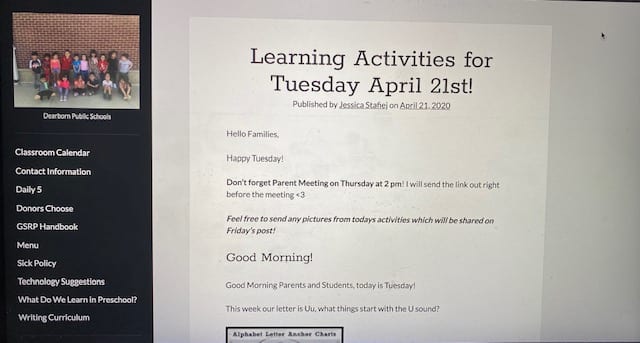 Step 2… Scroll to the bottom of the page.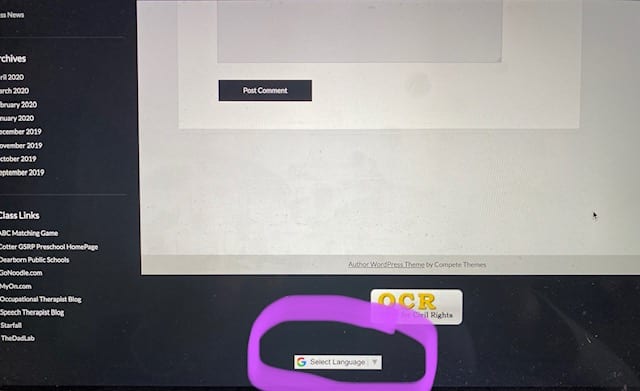 Step 3… Click on "Select Language" button and select preferred language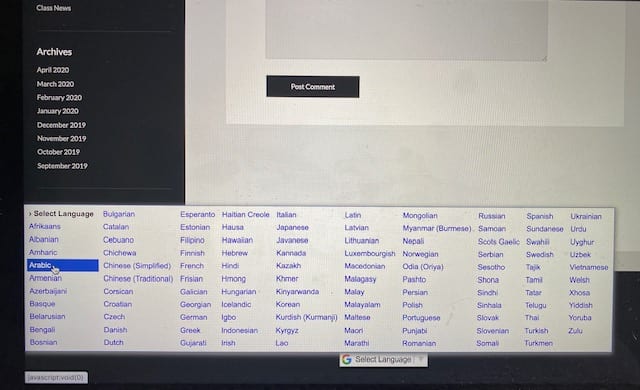 Step 4… The blog should then be translated.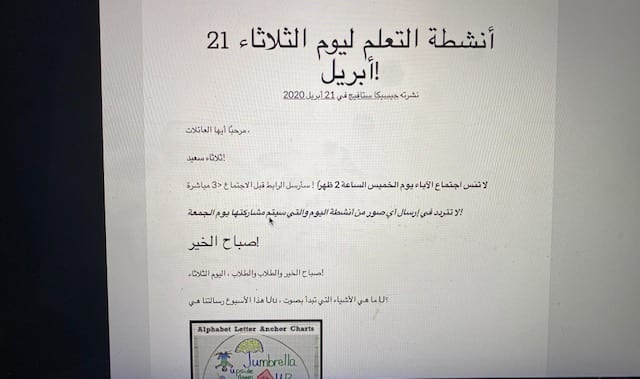 Please remember this is Google translating the page so I apologize for any inaccuracy, please let me know if anything needs clarifying. It is a learning curve for teachers and we are trying to make the information easily accessible. I hope this helps.
3. Food Mobile Pantry Thursday April 23, 2020 from 2pm to 5 pm Click on the link below for more information.
https://drive.google.com/file/d/1xkRQEVnL4EmyhdfTKAv_N0fJKaKsdOmG/view?usp=sharing
4. There's a new program that will pay up to $500 in utility costs for Michigan's essential workers. THAW, or The Heat and Warm Fund, will pay up to $500 in utility assistance for any household with an income up to 250% of the Federal Poverty Level. Following the Department of Homeland Security's definition of an essential worker, if you're a health care nurse, hospital cleaning and maintenance worker, grocery and foodservice clerk, or bus driver, you qualify.
Information From Mrs. Lall – Cotter Social Worker
Hi Everyone,
This is Ms. Jenn your School Social Worker. Here are some supports and services that are going to support you and be beneficial.
Food
As always remember and visit McCollough-Unis for those grab and go meals. Every Monday, Wednesday, and Friday.
There is a Gleaners food Pantry this week at Lapeer Park. 10040 Lapeer Park Pathway. Dearborn, MI
Thursday 23rd April
2pm- 5pm.
You can get fresh fruit and vegetables.
Financial
United Way has a Covid-19 Community Relief Fund.
They can help with rent and bills
1-866-211-9966.
Provide your zip code and they will provide local agencies who can support.
Goodfellows
313 274 4499.
www.dearborngoodfellows.org
Provides financial support in emergencies.
Wayne Metropolitan Community Action
734 728 3400
Provides rent and utility support.

As always if your family needs further assistance please reach out to me by email lallj@dearbornschools. org

Here are some links that could help with emotional support at this time. As parents it can be hard to know how to reassure our child and what we should say to them.
I hope you find this helpful.

https://childmind.org/article/talking-to-kids-about-the-coronavirus/

https://www.npr.org/sections/goatsandsoda/2020/02/28/809580453/just-for-kids-a-comic-exploring-the-new-coronavirus?ck_subscriber_id=673842138


You can always reach me through your classroom teacher or by email lallj@dearbornschools.org

Have a great week. Ms. Jenn
Reminder
Part of the state requirement is for us to maintain communication. We can continue this through our blog, emails, and phone calls. Of course, Mrs. Hamid is part of all our communications so if you need translation that will be available! It is very important that when your child completes an activity that you send me a picture. Or if you are not comfortable sending a picture you could send me an email discussing the activity. We will be keeping track of activities and participation! So basically, let's continue doing what we are doing!! 🙂
Remember you will be receiving an email for tomorrow's (Thursday, April 23) assignments this evening.
YOU ARE ALL DOING AMAZING DURING THESE CHALLENGING TIMES!
REMEMBER WE ARE ALL LEARNING TOGETHER!! WE ARE HERE FOR EACH OTHER!
Mrs. Stawara