Happy Monday! I hope you all had a great weekend. Today is the first day of June. We have two more weeks of school, so stay focused and work hard to finish out the school year. I know you can do it! 🙂
Here is the work I would like you to finish today:
Reading: Watch the video about comparing with stories: Ruby makes It Even. Answer the questions about this video in Google Classroom. Make sure you click on the SUBMIT button when you are done answering the questions. Clever
Go on iReady for 10 minutes today. Clever
Your spelling test will be on Friday. It is the last spelling test of the year!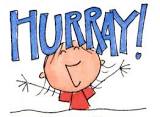 Spelling Words: –double consonants
bill, fill, litter, ladder, add, pass, mitt, mess, lesson, butter
Go on Spelling City to play a game.
Math: Go on Zearn for 15 minutes.
Social Studies: Go on Google Classroom and complete the Google Form Reading a Calendar. Clever
Special Area Class Today: Art
Visit Mrs. Saad's Google Classroom. You can find the link to Google Classroom on Clever.