Here is a link to all of our scholarships: Scholarships – Dearborn Education Foundation (dearbornedfoundation.org)
We have scholarships for sports, community service, arts, automotive, hospitality/food/beverage, politics, music, collegiate academy, Bryant and Stout students. The deadline to apply is March 31st. Our essays are short and sweet and the application process is quick.
The Student-View Scholarship is a unique opportunity for high school seniors.
It is open to all students regardless of academic achievement or financial need.Student Insights will award the following prizes: (Select your state below to apply)One (1) individual prize of a $5000 scholarship.Two (2) individual prize of a $1,000 scholarship.Ten (10) individual prizes, consisting of $500 scholarships eachIt is exceptionally easy to apply:* NO minimum SAT or ACT score
* NO minimum grade point average
* NO lengthy, time-consuming paperwork
* NO essays
* NO application feesSimply complete a 15-25 minute online survey about local colleges. You will then be automatically entered into a random drawing for a scholarship award.
Click on a state name or the map below to access your scholarship survey.
DEADLINE: APRIL 23, 2023

Scholarship applications are available throughout the United States.
DAR- Daughters of the American Revolution
Each year the National Society Daughters of the American Revolution (DAR) awards multiple scholarships to students showing dedication to the pursuit of higher education in diverse areas of study including history, economics, law, political science, medicine, nursing, occupational and physical therapy, elementary and secondary education, chemistry, math, science and English.
DAR's scholarships are awarded and judged without regard to gender, race, color, religion, national origin, or disability.
Applicants must be citizens of the United States.
Applicants must attend or plan to attend an accredited college or university in the United States.
All multi-year scholarships, typically renewable up to four years, must be for consecutive years of attendance.
Awards are based on academic excellence, commitment to the field of study, and/or financial need, or other restrictions on specific scholarships.
Awards are placed on deposit with the recipient's college or university and any unused portion shall be returned to the DAR.
Applicants are only eligible to receive one scholarship from the DAR.
The DAR Scholarship Committee Now Has an Online Submission Process
DAR is pleased to announce all students applying for scholarships offered by the DAR Scholarship Committee will submit their applications using the online application portal below. Emailed or mailed applications will no longer be accepted, unless applying for the Margaret Howard Hamilton Scholarship.
To Apply For DAR Scholarships . . .
The scholarship application portal is now open. The portal will is open for the coming academic year, 2023, from November 1, 2022 through January 31, 2023 at 11:59 pm (Hawaii Time). To access the DAR Scholarship Committee's online application portal, click here.

Greetings,
The 2023 Rosa Parks Scholarships ($2,000) application is now available on our web site: rosaparksscholarship.org
This is an annual scholarship, and we would encourage your school to make sure our web site (scholarship) is included on your master list of scholarships. This scholarship is open to all Michigan high school seniors.
The application is also available (you can copy/paste into your browser) at:
The deadline for filing is March 1, 2023. Scholarship winners will be announced in mid-May.
If you have questions or problems concerning the application, please email us at: info@rosaparksscholarship.org
If you received this email in error, please share with the correct individual, or disregard.
Thank you,The Rosa Parks Scholarship Foundation
Community Choice Foundation announces plans to award $100,000 in Scholarships
Link for applications is now open at CommunityChoiceFoundation.org
Community Choice Foundation is proud to announce that applications are now open for college, continuing education, and skilled trades scholarships.
The Foundation has awarded over $1.4 million in scholarships to nearly 300 students since 2009. A total of $100,000 will be awarded to deserving students in 2023, with 15 $5,000 college scholarships, six $2,500 continuing education scholarships and four $2,500 skilled trades scholarships. Applying students must be a Michigan resident and attend a Michigan-based institution, academy or training program following high school graduation. Applicants will be judged by their academic achievements, community involvement and extracurricular activities, along with completion of an essay.
The Community Choice Foundation provides aspiring post-high school students with networking and support beyond financial aid. It helps these scholars explore opportunities to explore their passions, connections with community contacts and charities and financial guidance. The Foundation's scholarship program is one of the largest in the credit union industry both in Michigan and nationally.
"We look for students who have a passion for the future and who are very goal-oriented and motivated both with their careers and in support of their communities," says Community Choice Foundation Executive Director Kevin McAlpine.
The scholarship program is funded by Community Choice Credit Union and the generous support of its members, team members and local businesses. Applications are due February 28, 2023, and may be filled out online by visiting CommunityChoiceFoundation.org. Scholarship winners will be announced in April.
The awarding of these scholarships is designed to help contribute to the talent pipeline and workforce development efforts of Community Choice Credit Union. The Community Choice Foundation is a resource for any organization, business, family or individual who wants to establish their own post-high school educational scholarship in Michigan. Community Choice Foundation can support the creation of a new scholarship in the name of a sponsor by providing the infrastructure, technology and marketing support to brand it to communities and school districts.
Community Choice Foundation is the charitable arm of Community Choice Credit Union and is a registered 501(c)3 organization. For more information, please visit CommunityChoiceFoundation.org or call 877-243-2528 x2460.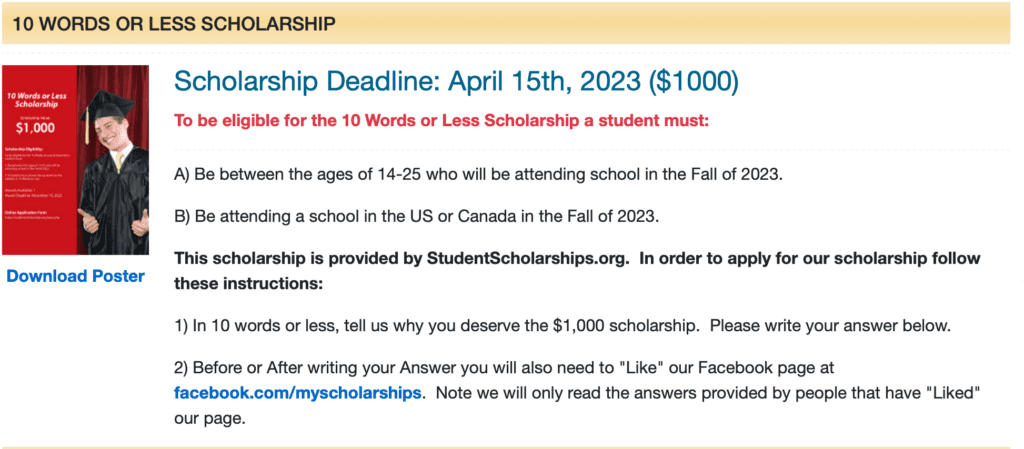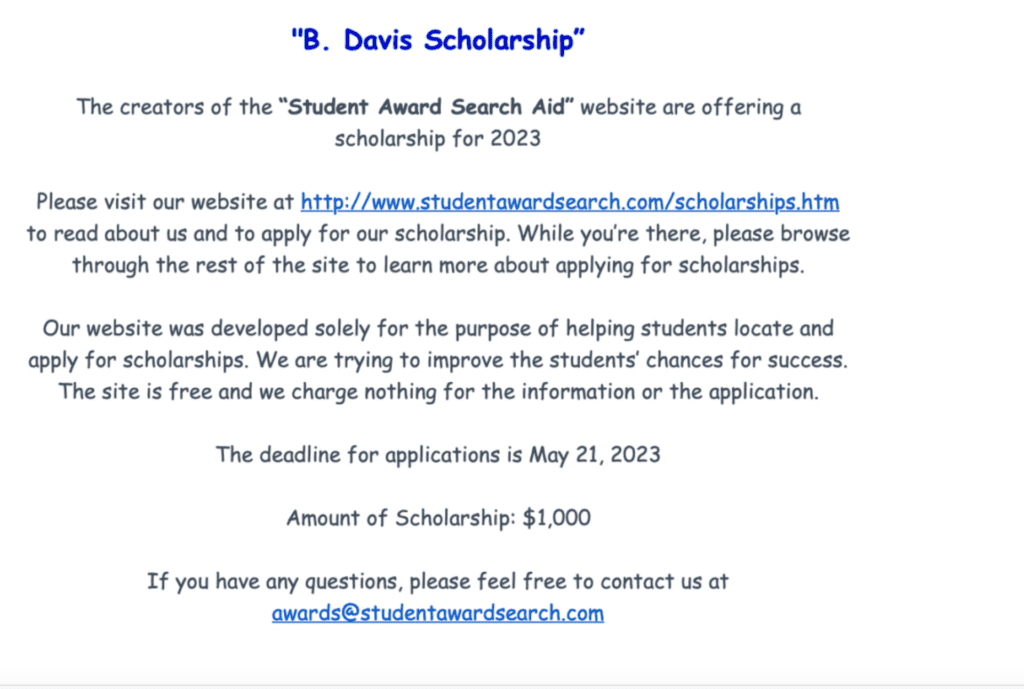 https://iblog.dearbornschools.org/fhscounseling/2022/12/14/b-davis-scholarship/(opens in a new tab)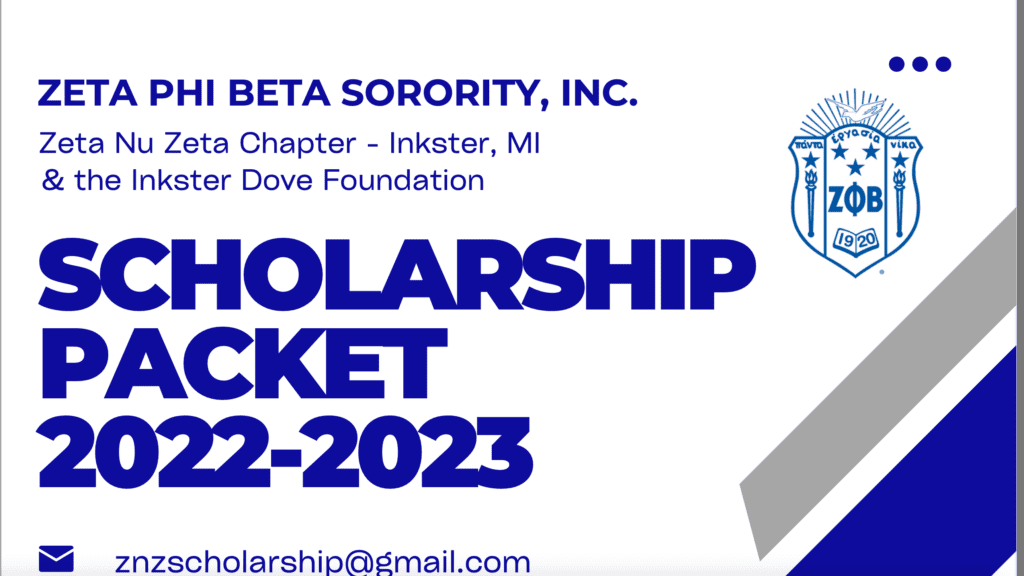 https://iblog.dearbornschools.org/fhscounseling/wp-content/uploads/sites/1839/2022/12/ZPB-ZNZ-Scholarship-Packet-2022-2023-Fillable.pdf
BIG SUN SCHOLARSHIP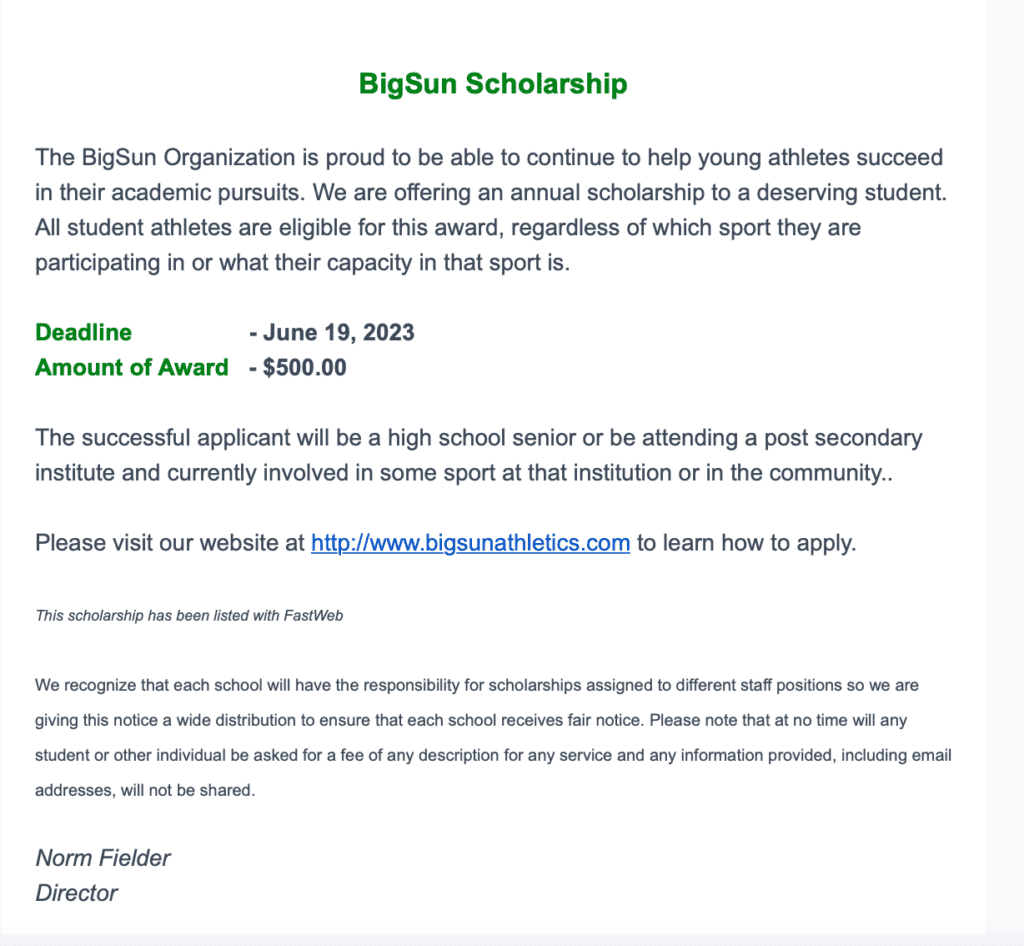 We're pleased to let you know about a scholarship opportunity for college / university attending students, it's called "SAMER HABBAS & ASSOCIATES SCHOLARSHIP PROGRAM". We'd love to make an application for this scholarship available to your students.
The $2,500 (USD) scholarship will be awarded to one passionate student, with the aim of reducing some of their day-to-day financial obstacles so they can focus on their studies.
We've noticed that you list third party scholarships on your website here (Scholarships) and were wondering if you would add ours there? We'd love to increase the number of students applying for the scholarship!
You can find more details about the scholarship we're offering here:
https://www.habbaspilaw.com/scholarship/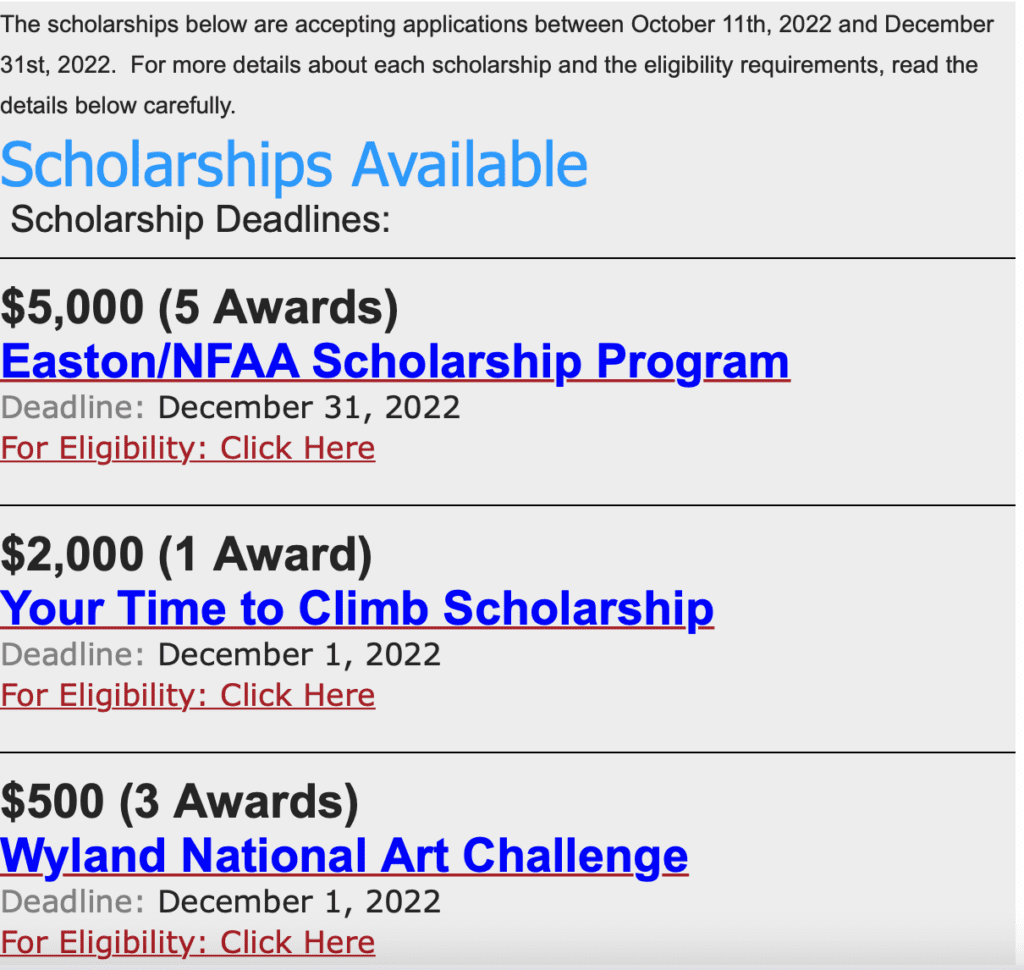 Top 5 Places to Find Scholarships:
The College You Plan to Attend – use college websites to find merit based and/or need based scholarships
High School – this website, check weekly
Community Organizations – i.e. Elks, Boy Scouts, church, 4H, etc
Employers – yours or your parents may offer scholarship opportunities
FREE Online Scholarship Searches – links above for FASTWEB and Career Cruising
LendEDU helps students, graduates, and parents learn the ins and outs of paying for college and managing, saving, and growing money.
Strategies for Students Too Rich for Financial Aid and Too Poor for College
Winning a Scholarship – Best Practices
Contact MI Student Aid at 1-888-4-GRANTS (888-447-2687)
to help you with your scholarship search
______________________________________________________________________________________________________________________________
Each year, the Coca-Cola Scholars Foundation awards 150 college scholarships worth $20,000 to high school students across the United States through the Coca-Cola Scholars Program. Students need a 3.0 GPA and to fill out an online application that requires no essays, no recommendations, and no transcripts by October 31, 2022, at 5 p.m. Eastern.
access the School Marketing Toolkit, which includes:
a printable PDF flyer
a selection timeline
a press release template
sample social media posts
photos and videos to use in your posts
The 2022-23 application is open to high school seniors until 5 p.m. Eastern on October 31, 2022.
See program details and last year's Coke Scholars.
______________________________________________________________________________________________________________________________

Money For College You Don't Have To Pay Back
https://bigfuture.collegeboard.org/pay-for-college/scholarship-directory?SFMC_cid=EM816209-&rid=47039546