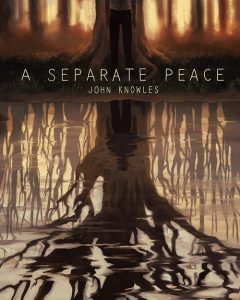 Yesterday the Honors Language Arts students took part in Socratic Seminars (Photo Credit: Mr. Adam Martin, DHS Principal) to discuss complex themes and ideas in John Knowles' novel A Separate Peace.
Students were responsible for engaging in critical thinking and collaborative conversations surrounding questions such as "What was the effect of war on Gene?" and "How is this novel essentially a psychological tale?"
Students assessed each other on their ability to analyze, reasoning, cite textual evidence, listen closely, and promote discourse in their groups.
After each seminar, I asked students to select MVP's in their group.  Here are the names of the students who "stood out" during the Socratic Seminars:
4th hour – Group 1
Maxine M. – MVP
Mohamed W. – MVP
Kara P. – Honorable Mention
4th hour – Group 2
Wafa J. – MVP
Riley T. – MVP
Mariam B. – Honorable Mention
Adam C. – Honorable Mention
Chase C. – Honorable Mention
6th hour – Group 1
Samantha M. – MVP
Adam I. – MVP
Benjamin C. – Honorable Mention
6th hour – Group 2
Maya L. – MVP
Brendan H. – MVP
Lauren H. – Honorable Mention
I had invited the administrative team to observe the students in action – here's what Mrs. Jebril, DHS assistant principal, had to say, "It was so refreshing to observe students actively engaged in collaborative conversations using text evidence and taking the initiative to keep the dialogue focused… It was also great to see students providing their peers with feedback."
(Thank you to Mr. Martin, Mrs. Osinski, and Mrs. Lintner for also passing by!)
Students: If you could please take the time to answer this quick survey about the Socratic Seminar process, I would appreciate it.
Today we are finishing our A Separate Peace unit with a summative exam.  Thank you for reading!