Here, you'll find some reading recommendations and reviews! I've been doing a LOT of reading and can't wait to share with you some awesome stories!

If you have a book you love and want to share, please click the link here! I'd love to read what you're reading!
May 2022 Recommendation: Dear Martin – Nic Stone
This is a story about stuff getting real. This is the story of a kid who feels stuck on the outside. It will hit you in the feelings and make you want to stand up for him. It will make you think.
Justyce McAllister is top of his class and set for the Ivy League—but none of that matters to the police officer who just put him in handcuffs. And despite leaving his rough neighborhood behind, he can't escape the scorn of his former peers or the ridicule of his new classmates. Justyce looks to the teachings of Dr. Martin Luther King Jr. for answers. But do they hold up anymore? He starts a journal to Dr. King to find out.
Then comes the day Justyce goes driving with his best friend, Manny, windows rolled down, music turned up—way up, sparking the fury of a white off-duty cop beside them. Words fly. Shots are fired. Justyce and Manny are caught in the crosshairs. In the media fallout, it's Justyce who is under attack.
I give "Dear Martin" 4 Stars
April 2022 Recommendation: Stalking Jack the Ripper – Kerri Maniscalco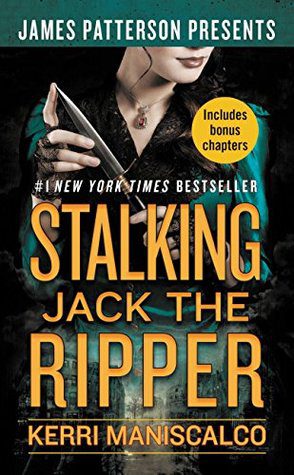 Do you like mystery? Do you like thrillers? What about Victorian teenage drama and rebellion? If any of those was a "yes", then this book is a good choice for you! Set in Victorian England, we follow our protagonist as she strikes out on her own, against the direction of her strict family. She's curious, she's smart, and loves nothing more than to learn and participate in scientific experiments with her uncle. Then they find themselves suddenly dragged into one of the most famous, vicious, and enduring mysteries in modern history: The killing spree of Jack the Ripper. How does it unfold? Read to find out! (It's a fast read, I promise)

I give "Stalking Jack the Ripper" 3.5 Stars
March 2022 Recommendation: Harry Potter and the Goblet of Fire – J.K. Rowling
The world feels a kind of scary right now and I feel as though there is no better time than this to read not only a tale of great adventure, but one rooted in perseverance and hope in the face of darkness. While I thoroughly recommend the entire series, I chose this book specifically because it is humorous, we see sides of the characters we haven't seen before and it brings a surprising sense of lightness to the story. I also chose this book because it tells small stories within the larger story. The Tri-Wizard tournament allows us to turn our (as well as the characters') attention away from darkness for a little while and enjoy the games, even though it still exists and it will be confronted eventually. We spend a lot of time in class considering purpose, message, theme, lessons to be learned, and this series is packed full. I think this month's recommendation should allow us some time to remember that good will always persevere, even when things feel a little bleak.
I give "Harry Potter and the Goblet of Fire" 5 Stars
February 2022 Recommendation: The House in the Cerulean Sea – T.J. Klune
This is one of only a small handful of books I have read that I feel lucky to have done so. I love this book. I listened to the audiobook for this one, and I believe that it truly enhanced my experience reading this sweet, happy ending story. In a story centered around a group of misfit children living in a foster home on a remote and mysterious island, we watch our main character experience life as he's never seen it before and it's the best. I genuinely loved every minute of this book.

I give "The House in the Cerulean Sea" 5 big stars!
January 2022 Recommendation: The Book Thief – Markus Zusak
This is one of my favorite books of all time. OF. ALL. TIME. Do I need to say more?
This is a story with an unusual narrator. This narrator takes us through one of the darkest periods in modern history: World War 2 in Europe. It tells the tale of a young girl and those she meets as she comes of age in these tumultuous times.

Do yourselves a favor and if you read nothing else: make it this book.

I enthusiastically give "The Book Thief" 5 Stars
December 2021 Recommendation: Shadow and Bone – Leigh Bardugo
Do you like curling up with a book on a cold snowy night? Do you like Drama? What about monsters and adventure? If you answered "yes" to any of these questions, this book is the one for you. Set in a fictional land torn apart by a dark force no one understands, our main character goes on grand adventures, faces down even the most terrifying creatures, and even finds love… or so she thinks… Shadow and Bone is a fast read that is the first in a trilogy. Each character is unique and indispensable to the progression of the story, each character has a role to play, and each character is complex.

This story is a fun read that would be perfect for curling up in cozy socks with a cup of hot chocolate!
I give "Shadow and Bone" 4 Stars
November 2021 Recommendation: Homegoing – Yaa Gyasi
This beautiful, beautiful book tells the story of a family through generations. Beginning during the slave trade through the eyes of a young girl caught in the midst of it all, this story is hers and is passed through the generations of daughters who follow. Each chapter belongs to the next descendant, packing this story with bite sized pieces of power, passion, and prose, Sometimes, it's a story of growing up, sometimes of growing old. But each character feels like family.
This book is a fast and easy read that still packs the power of a masterful work. If you love stories of empowerment, this is an excellent choice.
I give "Homegoing" 4.5 Stars
October 2021 Recommendation: Ready Player One – Earnest Cline
While not a new book, this one never fails to entertain. It is fast paced, it is full of action, and overall a really fun read. I powered through this one in a matter of days. Set in 2045, a kid named Wade Watts is not living his ideal life. In an attempt to escape, he enters a virtual reality world called the Oasis. A place where anyone can be anyone, can do anything, and live a whole new life. When the creator of the Oasis dies, he leaves behind a challenge, the winner of which will be in charge of the Oasis, and thus, hold untold amounts of power and money. Will Wade Watts Win?? Read to find out!
This book is thoroughly enjoyable and fun. A great way to break up the gloom of fall and the stress of the new school year.

I Give "Ready Player One" 5 Stars.

September 2021 Recommendation: The Anthropocene Reviewed – John Green