Young 5 and Kindergarten artists have been celebrating the season of Spring with their artwork! They created three painted papers to use for a Spring collage and used different painting techniques like sponge painting, splattering, and adding texture with tools to create their papers.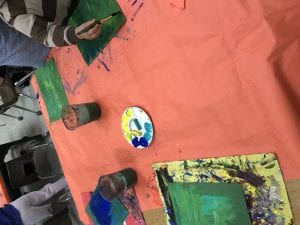 Then they have started to cut shapes from their painted papers to show things that we observe in the season of Spring- grass, flowers, birds, the sun or rain, etc. They will add finishing details to these collages next week.
First grade artists also began the month of April with a Spring-themed artwork; they created flowers inspired by Georgia O'Keeffe! They drew large flowers that were cropped on their paper with glue, and then added color with chalk, using a blending technique with their finger.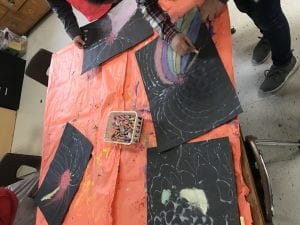 Third grade artists finished painting their paper mache food sculptures!
Fifth grade artists began the month of April with some observational drawing exercises and then drew flowers from observation, traced their lines with glue, and will be using watercolor paints soon to add color.