Kindergarten and Young 5 artists have been learning about the primary colors, red, yellow, and blue, during the month of October!
They drew a spider web with vertical, horizontal, and diagonal lines and then colored in their spider web with the primary colors.
Then they looked at Piet Mondrian's "Broadway Boogie Woogie" painting and created their own map-inspired collage using the primary colors.
Then they were able to experiment with the primary colors and saw that when they were mixed together they create new colors! They mixed paint, oil pastels, and modeling clay.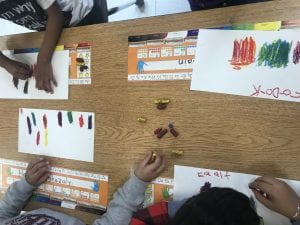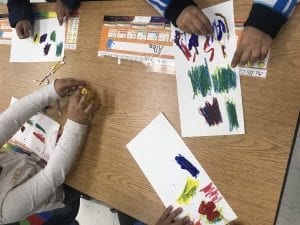 First grade artists mixed the primary colors of paint together, too! They created the three secondary colors, orange, green, and purple.
With their painted papers they created a collage that showed a night time sky, grass, and pumpkins!
Third grade artists have begun to create cubism inspired masks out of cardboard.  They looked at some cubism paintings and then sketched their own cubism mask design on paper.  Then they worked on cutting out all of the shapes they needed from cardboard and gluing them together. They are currently painting their masks to match their sketch. Stay tuned for photos of their progress!
Fifth grade artists have also been working with cardboard! They have been creating abstract, low-relief sculptures that show the principle of balance.
They learned about different ways to visually balance an artwork and looked at abstract artists' artwork for some inspiration. They are finishing the painting step now to give their sculptures color and patterns.