Select a name to learn more about us.
Mary Kay Kubicek - kubicem@dearbornschools.org
I've been a Dearborn kid my whole life. (Some might say I'm still a kid.) I went to Divine Child High School so I'm not sure how I ended up here in enemy territory at DHS but I'm having a fabulous time and I'm very proud to be a Pioneer now!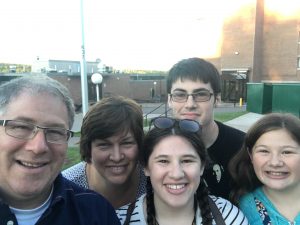 My children have attended Lindbergh Elementary School, Bryant Middle School, and Dearborn High School. (Can you imagine your mom teaching in your school? They handled it pretty well.) My oldest daughter graduated from DHS in 2016 and got her mechanical engineering degree from Michigan Technological University in Houghton. My son graduated from DHS in 2019, and is currently serving in the United States Coast Guard. My youngest graduated from DHS in 2021 (quite a year) and is currently attending Wayne State University.
My family would probably tell you that teaching is my only hobby but I do have a few others…maybe one or two. I love to read, especially biographies and memoirs, and also swim in our pool in the summer. Okay, so it's really more like floating in the pool. And I did a kitchen makeover this summer that I am really, really, really, really proud of. You want to see a photo?
Education
Divine Child High School, 1985
Bachelor of Arts (English, History) at Wayne State University, 1989
Secondary Provisional Certificate (Endorsement in English and Social Science Education) at Wayne State University, 1992
Master of Arts (Teaching) at Wayne State University, 1996
Professional Education Certificate (Secondary Level with Endorsement in English and Social Studies Education) at Wayne State University, 1998
Experience
11th Grade Language Arts & AP Lang. Teacher: Dearborn High School, 2014 to present
Language Arts Teacher: McCollough-Unis School, 2011 – 2014
Language Arts Teacher: Woodworth Middle School, 2010 – 2011
Language Arts Teacher: Eaton Academy (Formerly Detroit School for the Industrial Arts) 2006 – 2009
Language Arts Teacher: Redford High School, Detroit, 1992 – 1998
Sarah Pniewski - pniewss@dearbornschools.org