About GTW
GTW uses Google Translation services to instantly translate your website.  This is not human translation but should be considered better than not having any translation.
Which languages are supported?
Here is the list: Afrikaans, Albanian, Arabic, Armenian, Azerbaijani, Basque, Belarusian, Bulgarian, Catalan, Chinese (Simplified), Chinese (Traditional), Croatian, Czech, Danish, Dutch, English, Estonian, Filipino, Finnish, French, Galician, Georgian, German, Greek, Haitian Creole, Hebrew, Hindi, Hungarian, Icelandic, Indonesian, Irish, Italian, Japanese, Korean, Latvian, Lithuanian, Macedonian, Malay, Maltese, Norwegian, Persian, Polish, Portuguese, Romanian, Russian, Serbian, Slovak, Slovenian, Spanish, Swahili, Swedish, Thai, Turkish, Ukrainian, Urdu, Vietnamese, Welsh, Yiddish
Using GTW
Using GTW is as simple as adding the GTW widget to your theme.  Go to Appearance > Widgets.  Click on the GTW widget and drag it to your sidebar.  Click to enlarge image below.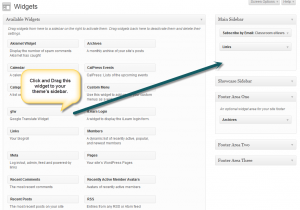 Additional Information