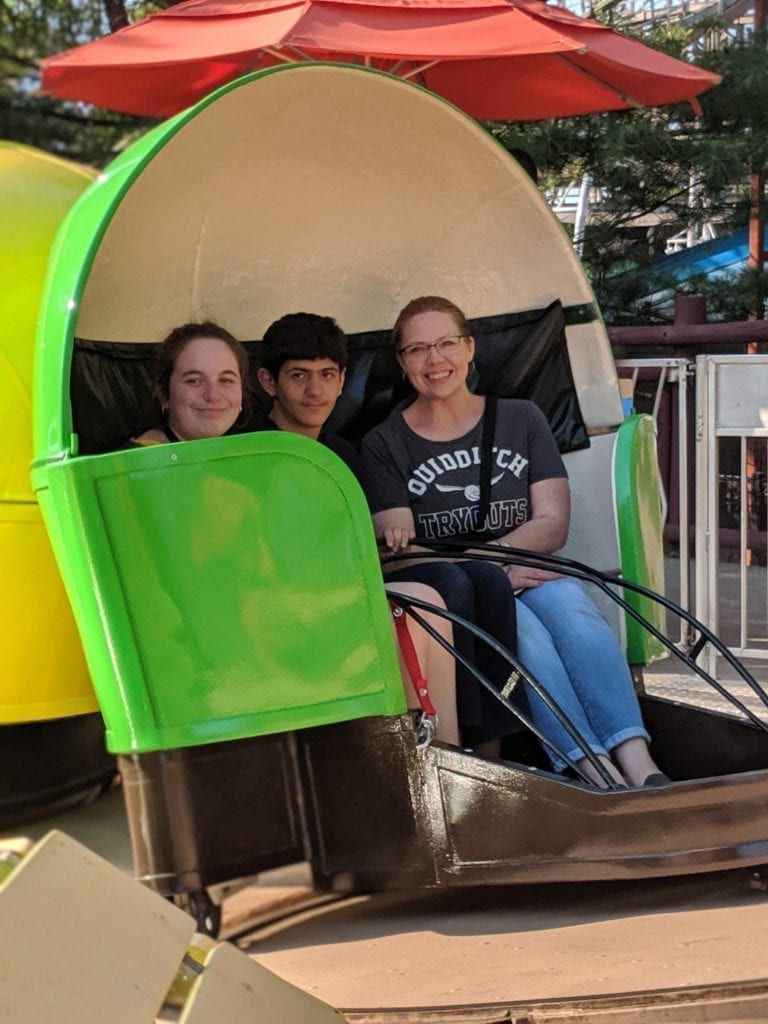 Ms. Tate is currently teaching 6th grade Language Arts in room 22. Ms. Tate has been subbing for three years. She has two children. Julia, her daughter is currently in 7th grade, and she has a son named Trevor. Trevor is 16 and a junior at Edsel Ford High School. Ms. Tate also has a dog named Shelby, who is a silver lab. Ms. Tate has many outside hobbies that include baking, making treats, traveling, spending time with my family, and, as she says: "obsessing over Harry Potter – that's like a full-time job in and of itself." We hope you enjoy this article and enjoy learning about Ms. Tate!

Interviewer: What is the most fun part about your job?

Ms. Tate: The most fun is getting to know students really well, and creating relationships with them, and helping them build confidence to learn things that they think that they're bad at or are not confident that they can learn.
Interviewer: Why did you pick this theme for your classroom?

Ms. Tate: I don't have a specific theme exactly, but I think that some of the things that I've latched onto, and been really interested in, are sort of young adult genre fiction/literature anyway. And I figure it's an ELA classroom, so it's a great place to display some stuff that… I don't feel like I have to have Twilight Barbies up in my house anymore, but I'm very happy to share them here. And gives a little bit of privacy to the room back there. So that's cool. They were sitting, literally, in storage for several years. So now I can share them a little. Same with my Hunger Games Barbie Dolls. And I've got oodles of Harry Potter stuff. Looking at that makes me feel young, and it gets my students interested in some of it. And, I don't know, I feel like it just sets a nice mood, and makes people kind of happy to be here. Because there are lots of kids that will tell me that they don't like ELA, and that they're terrible in the subject, but they like being in my room. So if we can start there – maybe if they like being in the space, then they can come around to enjoying some of the work that we do. And if they enjoy what they're working on, then they'll end up getting a better grade in what they're learning.

Interviewer: Do you have a teacher who influenced you to become a teacher?

Ms. Tate: I do, and she was actually my English teacher in high school. Her name was Mrs. Henziac. And also Mrs. Kasanowitcz. She was also a language arts teacher, but our theater… for plays and musicals and stuff. Both of them were excellent teachers, and I feel like I teach in a very similar style to both of them.

Interviewer: What is one memory you have of middle school?

Ms. Tate: One memory I have of middle school is… So I grew up in Oak Creek, and during the summer after fourth grade we moved out to Connecticut for a few years. But we came back to Oak Creek during winter break when I was in seventh grade. So when everybody came back to school from winter break, I started in the middle school. And so I knew a lot of people, because I'd gone to elementary school with them. But, just like at Smith, where there's several schools that feed into Smith, and I didn't know a lot more people than I did know.

Interviewer: Are any of the subjects you teach your favorites in school?

Ms. Tate: Yes and no. Science… When I taught science last year, I was terrible at science in school, and so I was not very confident about getting it at all. But as the year went on, I loved it very, very much, and that's actually what I want to pursue getting my teaching certificate in. That said, I loved English. I was very nearly an English major in college. So I enjoy teaching ELA, because I feel more confident in the subject. It's something I did well in. But I like that with science, answers are cut and dry, and that's it! They're right or they're wrong. In ELA, it's not always like that. In ELA, if you can present an argument that your whatever should be correct because of… whatever, sometimes that works out.

Interviewer: What advice would you give a student who loved your subject?

Ms. Tate: I would tell them to read, read, read, and that when they find something that they enjoy, to keep reading more about it. Information is so easily accessible these days, compared to when I was a kid. If you're looking for something fun to read, I find that I personally like the young adult genre of fiction. Which is why I have Twilight Barbie Dolls, and Hunger Games Barbie Dolls, and Harry Potter stuff all over the place. And it's funny because, I think it's a really, they can be really fun, universal stories… In my head, I'm still very much a middle schooler in a lot of ways, so I remember feeling just like I know you guys are feeling right now. But yet, I'm also an adult, and so I have a different appreciation for the professors at Hogwarts. Or the adults in Hunger Games. Or the adults in Twilight – or the vampires, I should say, because they're several hundred years old (which I am as well – just kidding). So we have that in common. But yeah, I love that those stories were all so good. And there was another book. And then another book. And then another book. And so you could still just keep gobbling them up.

Ms. Tate, thank you for all your hard work this year, especially coming in the middle of the first card marking. You do such a good job teaching in 6th grade. Your hard work is showing in the student's report cards. Also, people get a warm feeling when you walk in the room. Thank you for your hard, hard work and keep it up Ms. Tate!

–Myrna Burkhalter, Molly Holland, and Ella Ballheim