Meetings this year:
Thursday, September 19, 2019
Thursday, October 17, 2019
Thursday, November 21, 2019
Thursday, December 19, 2019
Thursday, January 16, 2020
Thursday, February 27, 2020
Thursday, March 19, 2020
Thursday, April 16, 2020
Thursday, May 21, 2020
Meetings will be held in the art room.
Welcome Letter/Permission Slip Link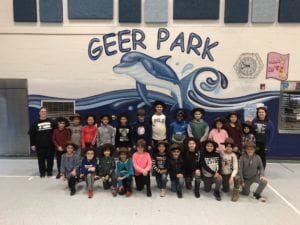 Rangers
The Rangers began last year at Geer Park. They are students in grades 2-5 that were nominated by their teacher to join our group. This group develops leadership and responsibility skills in our students by working with younger students and helping the school. Students will be asked to assist at a variety of events, such as Open House, Bingo for Books, Literacy Night, etc. They will also assist during school hours with Students Leading the Way, helping with new students in their classes, delivering notes, etc.
It is a Rangers responsibility to check outside of Mrs. Timpf's office for notes, announcements, and sign-ups. We have 23 Rangers so for some events there will be a sign-up because only a few Rangers are needed. Not all Rangers will work every event but all will work some. I will also post of this page so parents know what is going on. Please check here at least once a week to keep informed of  Rangers information and occasionally see pictures of our Rangers.
Thank you
Recycling Schedule
Once again the Rangers in grades 2-5 will assist with recycling. The schedule will be posted below. See Ms. Bruce for questions regarding this event.