Math- Lesson 31– watch video on schoology if you missed it on ZOOM this morning then do your VIDEO ASSIGNMENT FOR today!!– make sure to use your cubes to show me your math fluency task AND make sure say the colors as you show the missing numbers on your pages.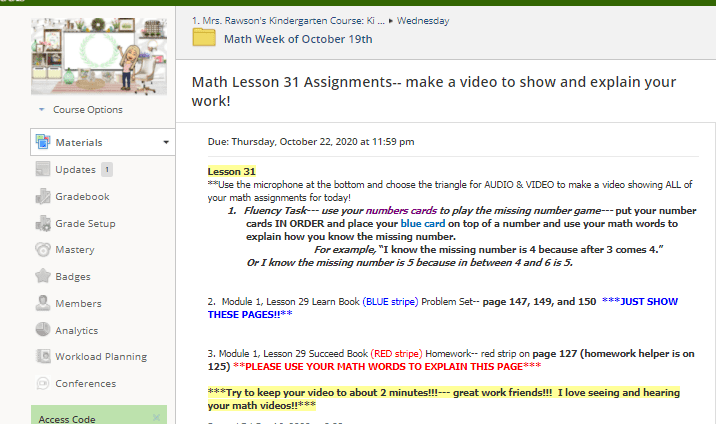 Reading: please go on READING EGGS for 15 minutes of independent work!! Here is a how to video… this is a great program paid for by the district so PLEASE make sure your child is going on EACH DAY for 15 minutes!!! I will be checking in to see that everyone is going on for at least 15 minutes EACH DAY!! Please email me if you have any questions about how to get on… rawsonm@dearbornschools.org
Here is our weekly report for so far: (you should be at 30-45 minutes) Special shout outs to Mohamad, Nour AlBsoul, Mariam, and Ibrahim who all have OVER 1 HOUR ALREADY THIS WEEK!!! WAY TO GOOOOOO!!!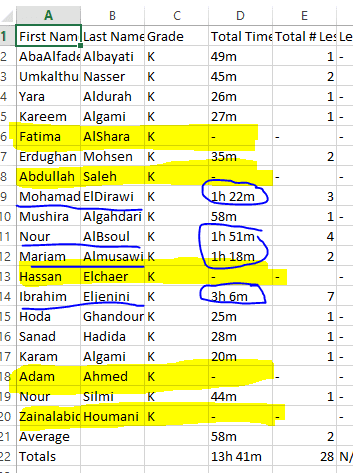 BENCHMARK ONLINE READING ASSIGNMENTS: Please do your Benchmark assignment for letter f and p games by the end of the week SUNDAY, OCTOBER 25th it is DUE. It looks like this: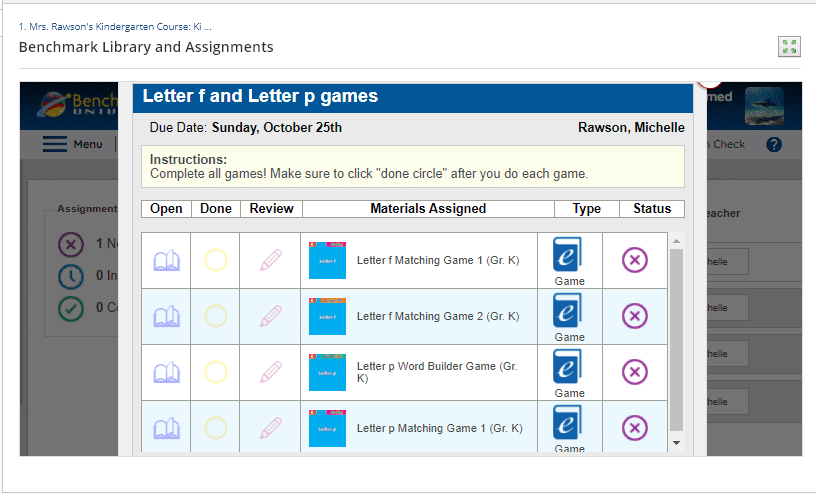 Benchmark Packet Pages– in phonics packet do pages 16 and 17, in grammar packet do pages 20 and 21 by the end of the week. Here is the previous post with pictures of pages: https://iblog.dearbornschools.org/rawsonm/2020/10/20/benchmark-phonics-and-grammar-packet-for-this-week-due-by-end-of-the-week-sunday-october-25th/
Writing: Please do the next page in your writing packet. Watch the "M song" to pick 3 words that start with M!!! and then write your Ms and m's neatly in your packet— remember packets will be dropped off/turned in when complete so do your best!!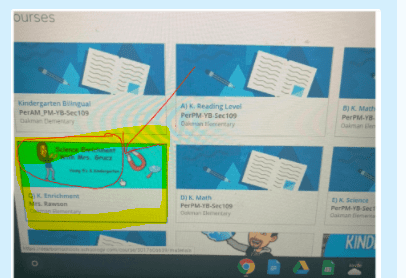 Reminders:
READING GROUPS START THIS WEEK!!
ALL LABS FOR THE REST OF THIS WEEK WILL BE ON ZOOM!! NO IN PERSON LABS THIS WEEK AT OAKMAN!! We will meet same day and times just on ZOOM! Get to ZOOM same as your do in the morning with the ZOOM Link on Schoology as shown below.

Here is the schedule and materials you will need whether in-person or on ZOOM make sure to be ready and ON TIME!!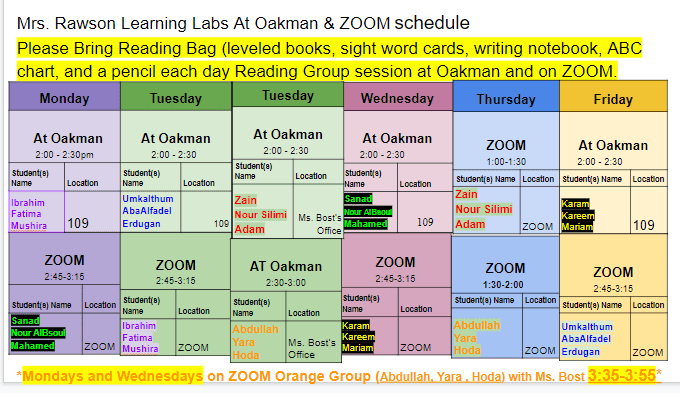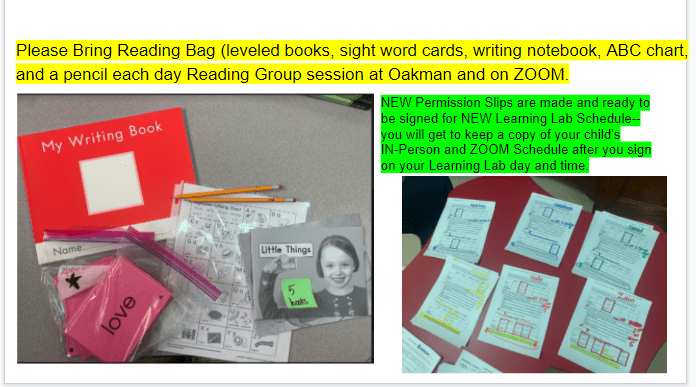 Please email me if you have ANY questions about learning labs!! We hope to keep this schedule and not change it!!! Thanks for all your cooperation and support as we navigate this TOGETHER!!!!!!!!!!!
Love,
Mrs. Rawson