Hello Everyone!
My name is Maria Rancilio (ran-silly-o) and I am a 7th grade Social Studies Teacher at Stout Middle School!
I am a 2012 graduate of Wayne State University. In May of 2017, I finished my Master's Degree from the University of Michigan-Dearborn with a degree in Learning Disabilities.  This is my seventh year at Stout, but have been with the Stout family going on nine years. I started as a pre-student teacher, a student teacher, and a long term substitute, finally they decided to keep me!
When I am not in school, teaching or learning, I spend my free time binge watching Netflix,, reading, watching the Tigers, running,  and playing with my 6 year old pup, who acts like she is 6 months old, Emma! She has plenty of energy, so she is constantly keeping me busy! During the school year, I coach Girls' Track and Field and CANNOT wait until track starts again! Go Falcons!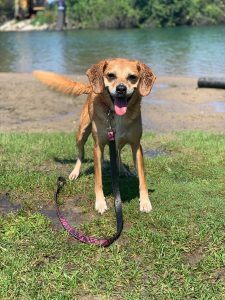 I am very fortunate to have this opportunity teaching in a great community and awesome school. I am beyond thrilled to meet all of you and have a great 2015-2016 school year! 🙂