Daily Schedule
This is the daily schedule for students:
8:55- 9:10 Join ZOOM! Read to Self until all students join and attendance is taken.
9:10- 9:50 Reading
9:50- 10:00 Snack/Break/Bathroom
10:00- 10:30 Reading continued
10:30-10:50 Math
10:50- 11:00 Break/Bathroom
11:00-11:45 Math continued
11:45- 12:25 Lunch
12:25- 1:00 Writing or Social Studies or Science
1:00- 1:50 Specials Assignments (sometimes the teachers will ask to join to help students understand the assignment and/or they have videos to watch to understand what to do on their assignments)
1:50- 3:45 Teacher meets with students in small group (students get independent work completed before school day is done)
3:50 Assignments are turned in and school day has ended!!
Always remind your child, to read daily for 15 minutes to build their vocabulary.
I have had many issues with students wanting to use the bathroom when I am teaching or going over homework. I remind students daily that we meet and have time that they may use the bathroom at the given break time. Also, they may put their two fingers up to form a V shape to use the bathroom.
Also, another issue we are having is the listening part. When their cameras are off it is taking them longer to get back to the computer to unmute and ask for the question repeated. When you don't face the computer or have your headsets on then you will not be following along. We have to remember you have to sit up straight in front of the computer with all of our supplies next to us. So we do not leave the computer to find our supplies. Always have a bottle water and our snack next to use, so we can always next to use and not look for it.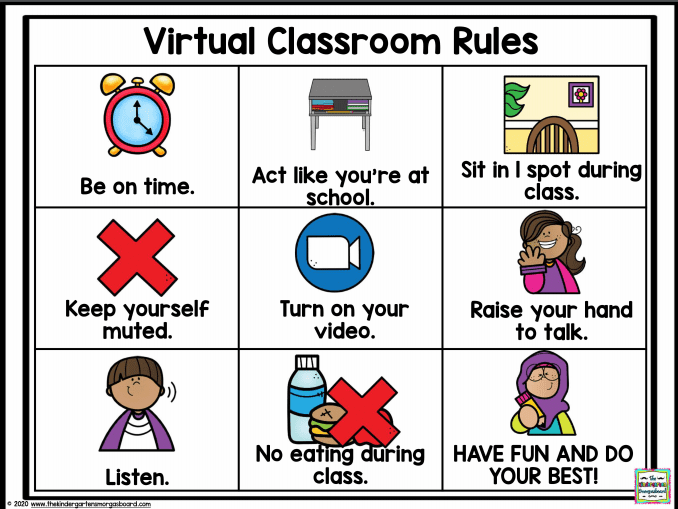 We will start our meetings with everyone muted, so they must raise their hands to ask or answer a question. Most importantly sit in 1 spot and your computer should not be moving. Your body should not be moving. NO dancing, making noises, or making funny faces. DO NOT interrupt class so keep yourself muted.
Parents we are all learning on how to get our students to learn and enjoy learning at home virtually. Please go over the norms and expectations of being online and rules they should be following.