Physical Activity
It's national lawn and garden month, which means it is getting warmer outside! Enjoy the nice weather with this fun, OUTDOOR scavenger hunt with a chance to win prizes!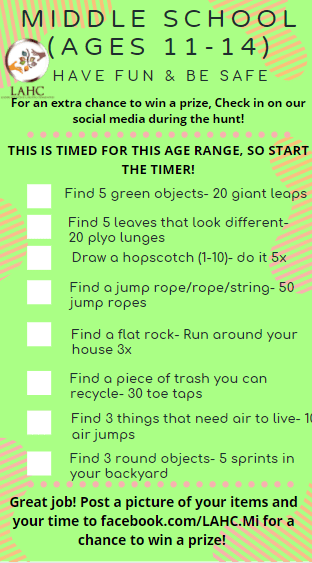 Nutrition
Healthy eating involves taking control of how much and what types of food you eat, as well as the beverages you drink. Make half of your plate fruits and vegetables. Dark green, red, and orange vegetables have high levels of the nutrients you need, like vitamin C, calcium, and fiber. Adding tomato and spinach—or any other available greens that you like—to your sandwich is an easy way to get more veggies in your meal. Check out the CDC's BAM! Dining Decisions App to see how healthy you can make your plate!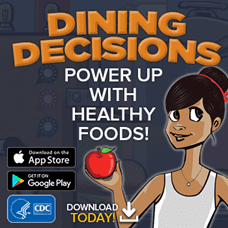 https://www.cdc.gov/healthyschools/bam/mobileapp.html
Covid Resources
Patients age 16 and up with an active myBeaumontChart account can sign up for a COVID-19 vaccine through Beaumont's Save My Shot program. When you meet the State of Michigan's criteria for vaccination and appointments are available, we will email you an invitation to schedule your appointment. Invitations will be sent based on prioritization and in order of registration. If you do not meet the current state criteria for vaccination, you can still complete the Save My Shot registration process. You will be placed on a waiting list until you become eligible. All vaccination appointments must be scheduled through myBeaumontChart. Walk-ins are not permitted.
Please visit www.beaumont.org/savemyshot
*Click here to submit feedback and additional ways Healthy Dearborn can help support you and your family with physical activity, nutrition and/or Covid resources.