Hello families!
Thank you all for working with your child to make today a success. I loved getting to know your students and I cannot wait for the learning we will get to do together.
Homework
Students know that their homework is to set up their virtual learning space and make sure it has all the expected materials. Please read through this list with your child.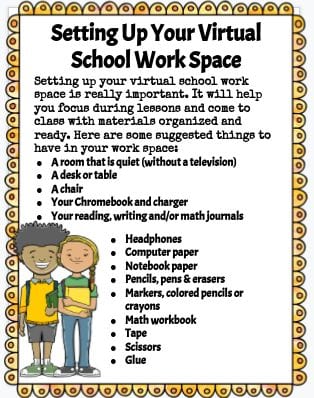 The list is also in Google Classroom. There is no assignment to turn in with it. Students just need to click "Submit" once you have finished this process.
Waiting Room Issues
Thank you for your patience today if your student was in the waiting room longer than expected at any point today. Managing the waiting room while teaching lessons is a new skill for me. I have a system now, so this should not be a major issue in the future. If it occurs, please send me a quick email or text, and I will check the waiting room within a few minutes.
Questions
Please reach out to me at my email with any questions you may have.