Hello,
My name is Monica Hankins, some of you might remember me as Mrs. Lucas.
I have been a teacher in the Dearborn Public Schools for over 20 years.  I started as teacher at Woodworth, then the elementary moved over to Henry Ford.  I later transferred to Whitmore Bolles in order to share time.  I taught kindergarten for over 17 years and 5th grade for 3 years and dabbled in 3rd and 4th for partial years when needed.
I have an 18 year old son and a 13 year old daughter, a 9 year old Dalmatian, LadyBug and two adopted Shih tzu puppies from the shelter, Mickey and Minnie.  I was remarried in 2013 and now share two grandchildren and a daughter and son in law as well as a son and daughter in law with my new husband.
I attended Eastern Michigan for my Bachelors and teaching certificate, Western University, MaryGrove for a Master's in the Art of Teaching as well as Oakland for a Master's in Early Childhood. I am currently attending Wayne State University for my Master's Degree in Library and Information Science.
I am very excited and eager to begin the next chapter in my adventure called life…..
My husband John, son Kyle, daughter Ella and I in 2017.
Our blended family all together in 2013 after we got married.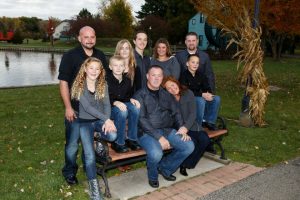 Our dogs, LadyBug (Dalmatian), Mickey (white/tan) & Minnie (black) while we were camping in 2017.