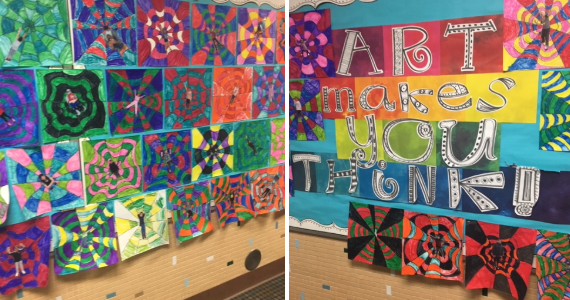 Happy STEAM Week!
As STEAM week begins, we will be showcasing some events happening around the district.  If you would like someone to come cover your event, please fill out this form.
STEAM at River Oaks
Check out what River Oaks is doing for STEAM!  Thank you to Jo Zechar for your submission!
Young 5:
We learned about viscosity and buoyancy – sinking and floating,  what has the tightest molecules: oil or water, and making waves- by making our own Mindfulness Jars.  We had fun making them and even more fun watching the things we put in sink or float. It was hectic making them but very peaceful and relaxing to operate them- quiet time!!!!!!!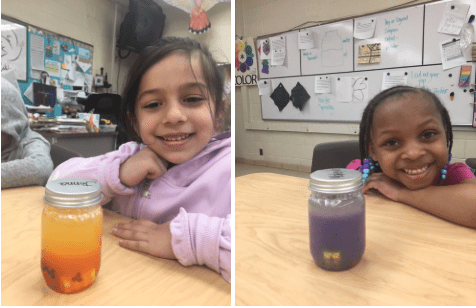 When we have time at the end of a lesson we bring out the transparent color shapes.  The students like creating 'things' with them and putting one on top of the other to see what colors they can make.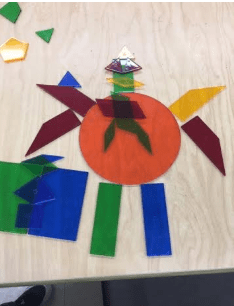 Kindergarten:
We learned about hand and eye coordination by making old fashioned ball in the cup games.  It took practice, but we got the hang of it.  Students design the outer covering of their game to make it their own creation. They wanted immediate success but with perseverance it paid off and they found that patience and stamina played a part.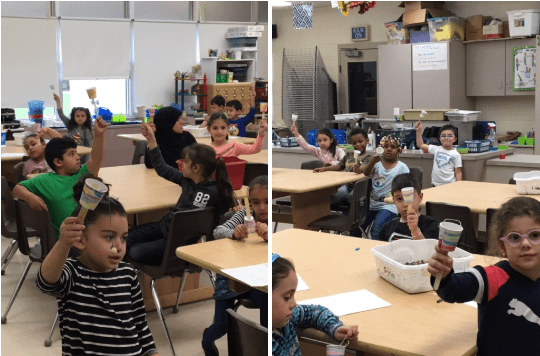 First Grade:
We had a blast learning about fat molecules and soap and how they react- they chase each other down and make really cool designs explode in milk when they try to connect.  Whole milk has way more fat so it makes the best explosions.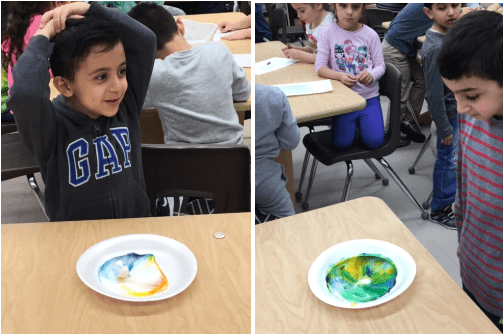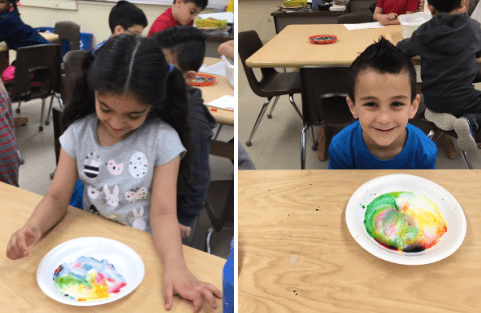 Second Grade:
We used recycled CD's to make the base for a spinning top.  They designed a circle to put on the top of the CD and then used an old marker cap and a marble to complete the top.  They had a ton of fun spinning them and came up with several ways to spin them and measure competition- which spin lasts the longest, finger spin or drop spin, which was the coolest design spinning or static, which one traveled the farthest while spinning, which one stayed in the smallest area, etc.

Third Grade:
We made tri-fold dioramas to show off classroom learning of Native Americans, Early Settlers and their environments using a variety of materials to replicate their housing, their crops, and their use of natural resources.

We also made arcade games out of recycled materials under the influence of the Caine's Arcade video  https://www.youtube.com/watch?v=faIFNkdq96U .  We worked in groups, made a plan and revised it, brought in and shared materials, made the game, played the game, tweaked the game, made revisions AGAIN, argued about best solutions, came to a group agreement and carried on!  We are planning on having younger students come to our arcade as soon as the final logistics get worked out.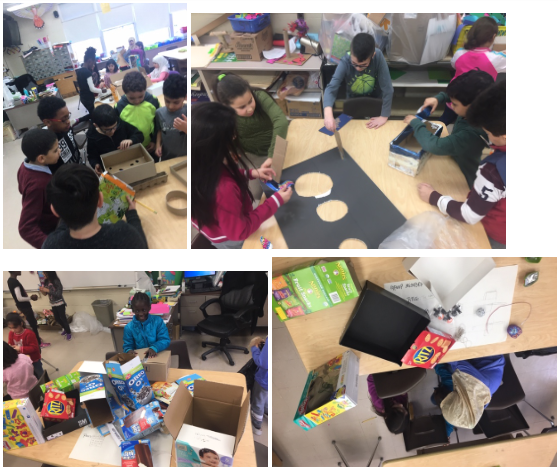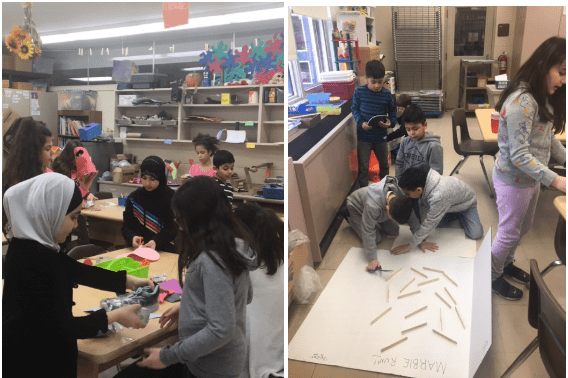 Fourth Grade:
We thought about what it would be like to escape from the surface of the earth, similar to rockets and space missions.  So… we decided to open the earth and blast something out of an environment, students pondered what it might be like and what they would like to 'set free'.The students had to define what the environment was and why whatever was blasting out of it wanted to get out.  They learned to look at something from an overhead view- not something that happens unless they are flying. They made some thoughtful choices, but many were just plain funny!

Students learned about illusions and how they create a trick that plays out between the eye and the mind.  Color and line can create motion and we used these aspects to make a 'black hole' type illusion where we look like we are either falling into it, climbing out of it or hanging on for dear life.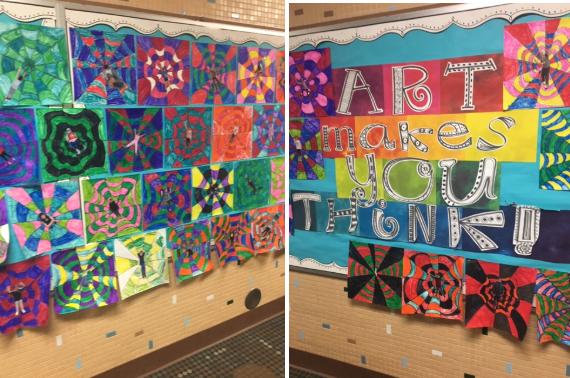 Fifth Grade:
We were fortunate to have the O.L. Smith Art Teacher- Stephen Kade- visit and show us his findings from his 5 weeks at sea (from South Carolina to Florida) working on a science ship that catches and records sea life.  He showed us his drawings and taught us how to draw some of the sea creatures he interacted with.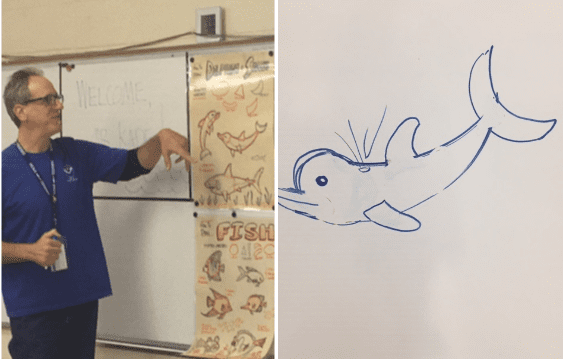 We also made a sculpture using toilet paper and paper towel tubes.  The structures had to be three dimensional and have attached pieces that protruded from the base, provided interest and showed balance.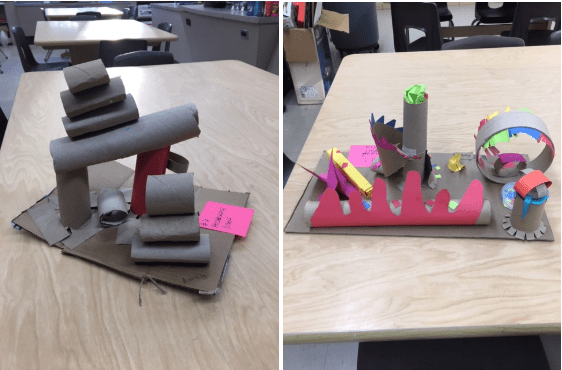 The most fun sculpture was creating a packaging tape shoe that was actually made over the top of a shoe that was worn to art.  We put on two layers of tape- the first one was sticky side up, we added our decorations/designs, and then added a second layer with the sticky side down.  It was tough to get the hang of wrapping the tape the correct way, but we figured it out and realized that slicing the back and the bottom to get the shoe out was the hardest part.