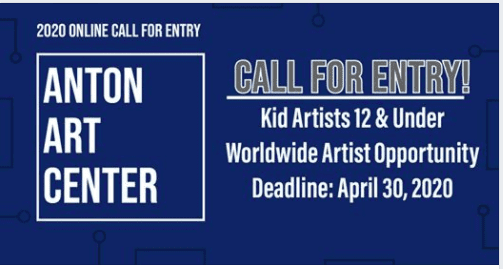 Call for Kid Artists – Worldwide Online Art Show
March 31, 2020
Calling all YOUTH artists, ages 12 and under. The Anton Art Center is hosting worldwide online art exhibits for three age groups: adult, teen, and youth. Please email to exhibitions@theartcenter.org.
​
How to Participate:
– No cost to enter; unlimited submissions allowed
– Open worldwide
– Deadline to enter: April 30, 2020
– Open to all media, including, but not limited to: photography, mixed media, metal, wood, paint, graphite, charcoal, pastel, glass, fiber, installation, found object assemblage, non-traditional media, new media, illustration, comic, graphic design, digital art, fashion, animation, paper, plastic, clay, ink, printmaking, and more.
– One photo per 2-D artwork, three photos per 3-D artwork
– Artwork must be appropriate for all audiences
– Submit your photo(s) of artwork and caption with artist first name, age group/age, approximate location (city, state/providence, country), artwork title, dimensions, and media, and a brief description of what inspired you, if desired.
All submissions that meet the guidelines will be included in the online exhibit opening in May 2020.