Week of June 8 – 11
2020 Art Gallery
Week of June 1 – 5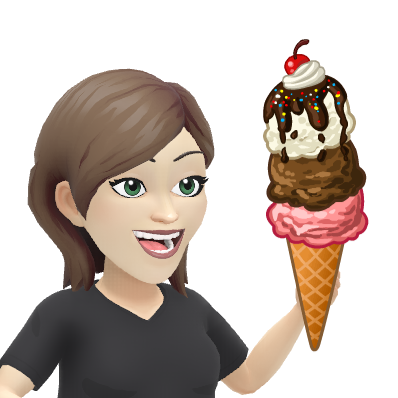 Hello friends,
Here is our final themed art lesson for the school year…
"I scream, you scream, we all scream for ICE CREAM!!"
Although this is the FINAL lesson for the school year, I will be posting a special message next week, so visit the blog next week too!
ALL art assignments are due by Thursday, June 4, so if there assignments that you missed still have a bit of time to turn them in via email.
Step one: plan your art. Look at the examples below, decide if you would like to make a popsicle or an ice cream cone. Will you paint, color, or make a paper collage?
Step two: or, you could draw a cartoon ice cream cone. Follow the directions in the video below.
Step three: email your art to Mrs. Buenting, make sure you have your name and classroom teacher's name in subject line or in the body of the email.
Week of May 26 – 29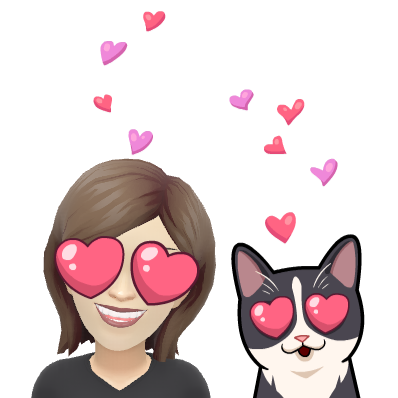 Welcome back everyone!
This week our theme is cats!
Step one: watch the video of me reading the story, So Many Cats.
Step two: watch and following the step by step video of how to draw cats on the rug.
Step three: take a photo of your completed drawing and and email it to me. Remember to have your name and your classroom teacher's name in the subject line or in the body of the email.
MEOW! 😺
Week of May 18-22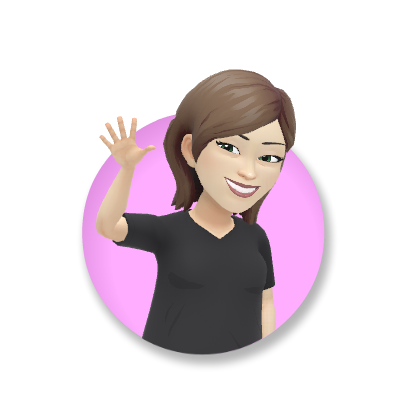 Hello boys & girls!!
This week we will be creating a piece based on the work of a famous artist named, Wassily Kandinsky.
Kandinsky was a Russian painter who was one of the first artists to developed a style of art called abstract. Abstract art is art that doesn't try to show a realistic version of an object, but uses shapes, colors, forms and gestural marks to create the item.
For example, below is a realistic tree and an abstract tree.
Below are two of Kandinsky's works, both of a person riding a horse. The painting on the left, from 1903 is more realistic. The work from 1911, on the right is more abstract, Kandinsky uses simplified lines, shapes, and colors.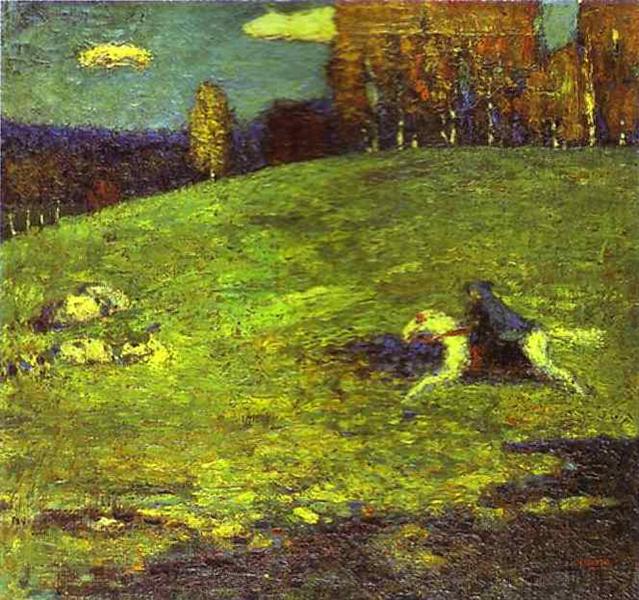 The artwork we will be focusing on, is actual a study, which is what artists call a practice sheet. A study allows artists to plan colors, shapes and compositions, and sparks ideas.
Step One: follow the video below to create your version of Kandinsky's Color Study: Squares with Concentric Circles, 1913.
Step Two: take a photo of your work and email it to Mrs. Buenting. Make sure your name and teacher's name are in the subject line or body of the email. Have a wonderful week, be kind and colorful!!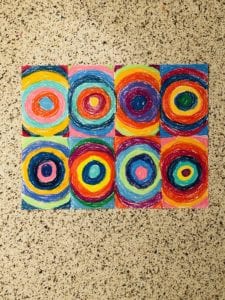 Mrs. Buenting's finished piece.
Week of May 11-15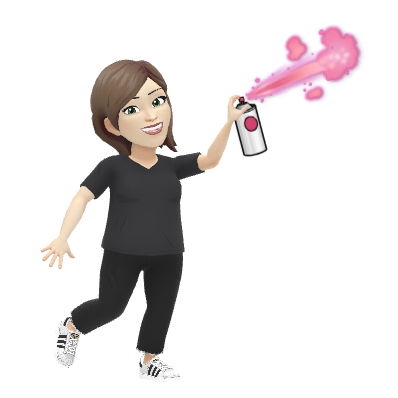 Hi friends! The theme this week is computer art.
This week for grades K-2 we're going to have the same assignment. But everyone's art will be different and uniquely their own. I was hoping to do some artwork and explore outside a little this week based on the lovely blooming May flowers and budding trees, but it's still a little chilly. I know we've been on our computers a lot, but let's give this a try. It's quick, easy, and fun.
Visit Tate Kids website. Tate Kids is a website created by the Tate, the Tate is a group of four famous museums in London, England. The Tate Kids website has some really cool interactive painting tools. I've included a link below. You can choose either the "let's create" or the "inspire me" sections from the "Let's Paint" area. Choose your canvas, choose different tools, have fun, explore, create some really cool stuff.
Once you have finished take a screenshot of your work and email it to Mrs. Buenting. The design I created is below, and it reminded me of the design that we made in the beginning of the school year. Remember the story of the mommy shape, and the baby shape? We painted white shapes and lines on black paper then added colored chalk to make our beautiful designs.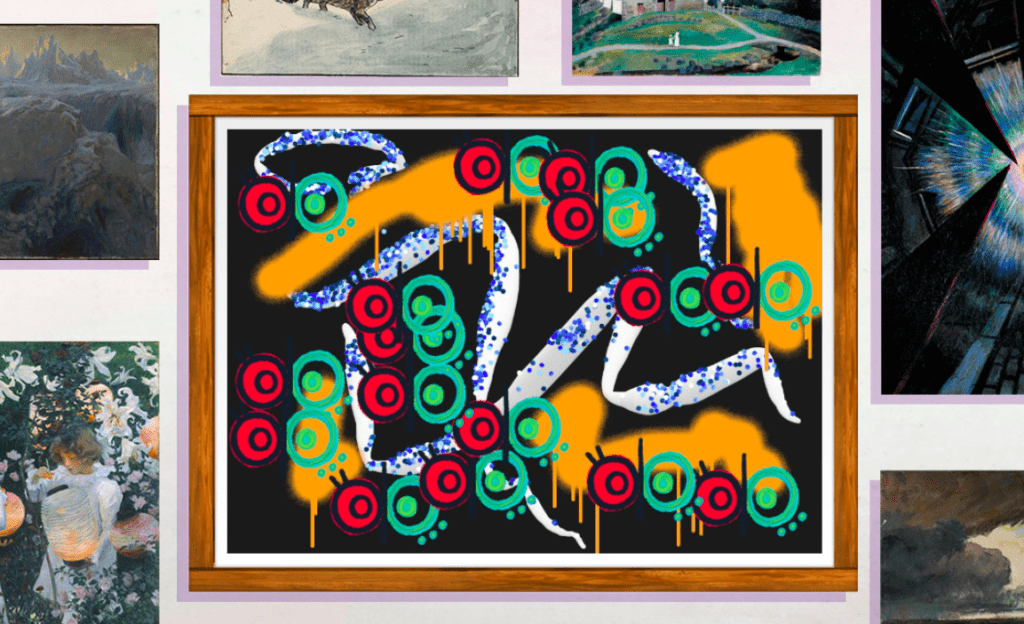 As always stay safe, be polite, help your parents, and create!
Step One: Visit the website's Let's Paint area.
https://www.tate.org.uk/kids/games-quizzes/tate-paint
Step Two: Choose "let's create" or "inspire me" option
Step Three: Explore the tools and create your masterpiece.
Step Four: Take a screenshot of your work.
Step Five: Email me your artwork!
Week of May 4 – 8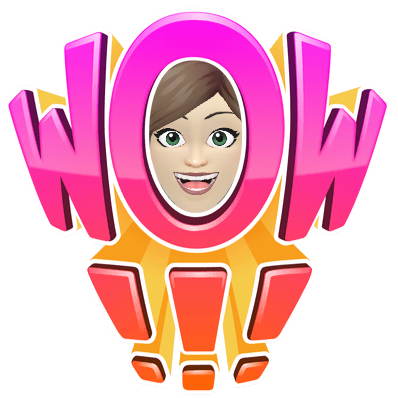 Hi Friends,
First, your Superhero drawings are AMAZING, I am very impressed!!
The theme for this week is: insects.
Step One: Choose one insect from the following list: butterfly, bee, ladybug, dragonfly, grasshopper.
Step Two: Draw your insect in pencil, following the step by step directions.
Step Three: Draw the setting. Maybe draw your butterfly or bee floating among a field of beautiful flowers. If you choose a grasshopper is he on the ground, on a blade of grass or sitting on top of a flower?
Step Four: Trace over your pencil lines with a dark colored marker such as, black, brown, blue, purple.
Step Five: Color your drawing with crayon. Use different values (types) of a single color. This is especially important for grass, stems and leaves of flowers. Three or four different green colors (green, mint, yellow-green, forest) will add interest and variety to your work.
Step Six: Take a photo of your work and email it to me. Make sure your name and classroom teacher's name are in the subject line or body of the email. Maybe, you could hang your artwork in a window of your home to brighten someone's day!! Have a good week, be kind and remember to help your parents.
Week of April 27 – May 1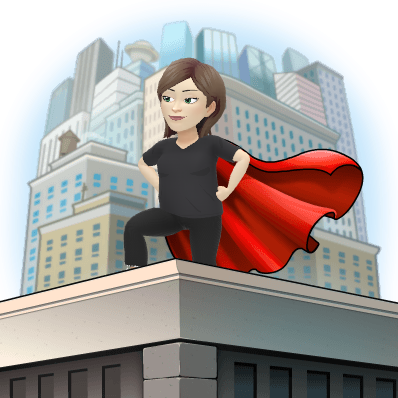 Hi Friends,
The theme this week is SUPERHEROS!
We are ALL Superheros in someway. By Identifying with a superhero children become empowered, learning compassion, the difference between right and wrong, and making healthy life choices. Help build your child's self esteem and empower their superhero traits with this superhero art lesson.
This lesson was created by another teacher named Katie, from Hollywood Kindergarten. I have placed all the directions on a Slides Presentation, which can be accessed only through your child's student account using the following link.
https://docs.google.com/presentation/d/1EQCQx0g7SEr_wt1GR6vf1ZNoWRfWeWgo9sDNzKRzDi0/edit?usp=sharing
The presentation is long, therefore I suggest you read through everything first. Work on this assignment throughout the week, completing 1-2 steps per session. Remember to send me a photo of your completed superhero AND the writing portion.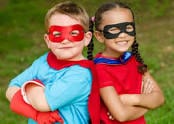 Stay safe, help your parents and be kind my friends.
Week of April 20-24
Hi Friends,
The theme this week is: things that hatch!
Last week we looked at spring animals, bunnies, bears and foxes. This week I would like for you to explore animals or even imaginary creatures that hatch from eggs.
Step One: Watch the video below, it contains a very short story read by Mrs. Buenting, and a direction review of the lesson.
Step Two: Watch the second vide, it's a silly cartoon quiz you can test your knowledge on things that hatch!
Step Three: Print the drawing page, Hatching Ideas.
Step Four: Use your IMAGINATION to draw and color something that has just hatched. Your creature could be a real animal that is a bit unique. For example, a chick with polka dots, or maybe a BIG purple alligator. Or your creature could be imaginary, like a brontosaurus with orange feathers and little wings.
Step Five: Take a photo of your work. Email the photo to Mrs. Buenting buentir@dearbornschools.org. Make sure your name is in the subject line.
Step One: Video Story and Directions
Step Two: Video Quiz
Step Three:
Hatching Ideas Drawing Page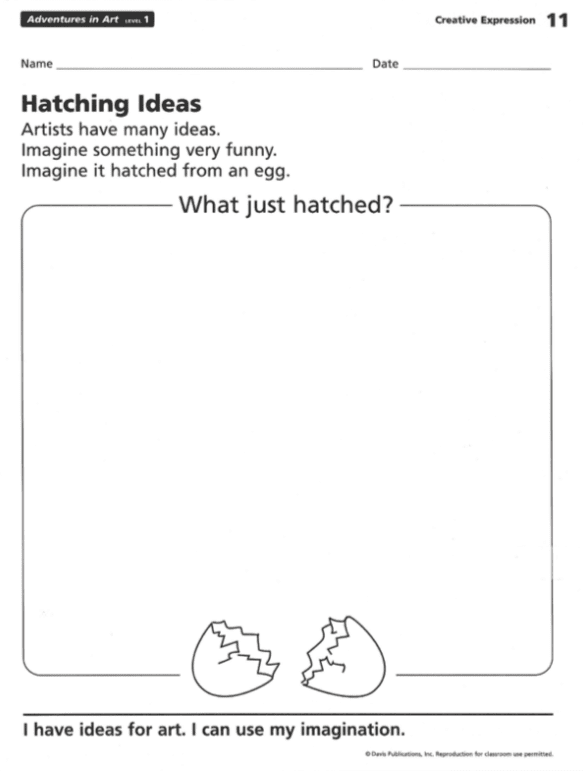 Week of April 13-17
Hello First Graders!
I hope you spent a happy week making memories with your family. This week is all about spring animals, specifically bunnies, bears and foxes. I am sharing templates for each of the three animals that can be decorated with patterns. I'm also including a few pattern ideas and some fun glasses. See the finished product and step by step video below. These are fun for the whole family. As always stay safe, be polite and be kind!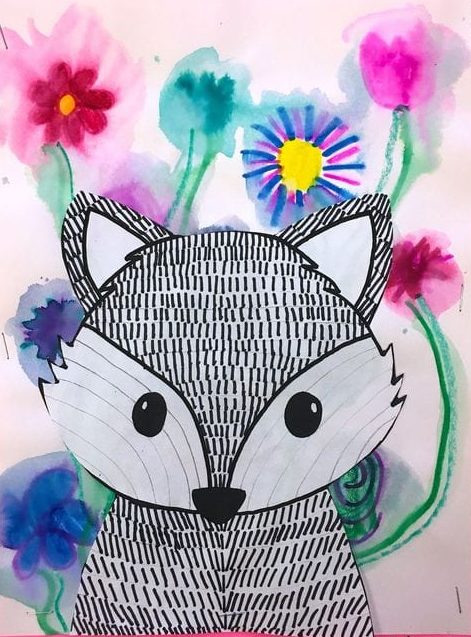 https://www.teachstarter.com/us/blog/fun-easter-bunny-craft-idea-us
Week of March 30-April 3
Hi everyone!
This week I would like for you to watch the video below about a global (done around the world) art projcet to help people feel better everyday.
The project is called "you are beautiful".
After you watch the video, download the three coloring pages, or create your own you are beautiful picture. I added some work created by students to inspire you!!
Oh, and be sure to email me a photo of your work.
March 23-27
Hello first graders, I hope your daily challenge is progressing nicely?! I am looking forward to seeing all the wonderful drawings you have made, so be sure to save them in your portfolio. I would like to give a shout out to Adam Kassem from Mrs. Donelson's class. Adam shared this really cute picture of a leprechaun with his pot of gold.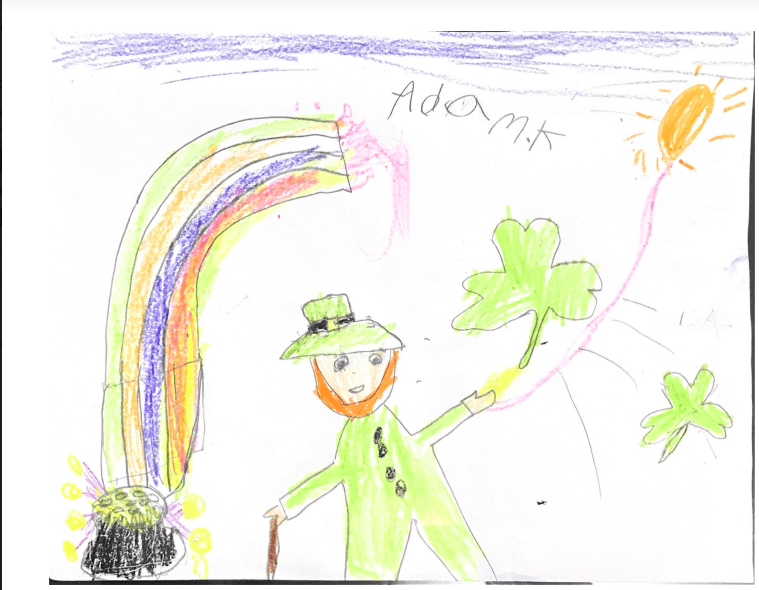 What is Art? / Architecture
What is art? Art is many things, read through the slides presentation to learn more and try the architecture assignments as your art experience this week. Remember, any type of paper (s) and media (pencil, pen, crayon, marker, paint) will work. Simply explore, enjoy and share! Email me a photo of your work, or save it in your portfolio and impress me later. 🙂
https://docs.google.com/presentation/d/1u1BELcY08jI2Bj3JqQSS9UhAhnEBnhJDXNiU36M9nUk/edit#slide=id.p
Art with Matt & Dada-Fun Architecture Videos
March 16-20
Daily Drawing Challange
Hello first graders, I have a challenge for you! Your challenge is to make one drawing every day while you are at home!! The drawings may be of anything you want, however below are some daily suggestions. Drawings can be big or small! You can draw on paper, on cardboard, on the back of an envelope, on the sidewalk with chalk, digitally on the computer or tablet, anywhere!
Please keep all that you create and bring it to art when you return. Just put your name on everything! If you have a folder or portfolio or would like to make a folder or portfolio to put it in, that would be a great way to keep it together but is not necessary! Photos of temporary artwork like sidewalk drawings, and screenshots of digital work may be emailed to me:
I will share some of them on this blog.
The List
Day 1: Draw something that makes you smile.
Day 2: Design and draw a monster! Write a sentence about where this monster lives.
Day 3: Draw your favorite food.
Day 4: Draw an object from your home.
Day 5: Draw someone you love!
Day 6: Write a story and then draw a comic to show your story!
Day 7: Draw a new superhero! Write about what their super powers are!
Day 8: Design and draw the ultimate playground!
Day 9: Draw something that makes you nervous or scared.
Day 10: Draw yourself making a funny face!
Day 11: Draw your favorite animal or insect.
Day 12: Design and draw a uniform for the summer olympics! (This could be for any summer olympic sport: gymnastics, basketball, rowing, football, tennis, surfing, track, and more!)
Day 13: Draw a memory you have. Write a paragraph to explain the memory and why it feels important to you.
Day 14: Draw one of your favorite characters (they could be from a book, a movie, tv, video game, etc.)
Day 15: Invent and draw a new fruit. Name your new fruit and describe how it feels, smells, and tastes!
Day 16: Draw your favorite season.
Day 17: Draw a design that shows a pattern.
Day 18: Draw something warm.
Day 19: Draw something cold.
Day 20: Draw a map of something. (This could be your city, your bedroom, your house, your school, etc. Include as many details as you can!)
Day 21: Draw a word in bubble letters.
Day 22: Draw something that moves.
Day 23: Draw a piece of garbage or recycling.
Day 24: Draw yourself 20 years in the future! What do you think you will be doing in 20 years? How can you show this in your drawing?
Day 25: Create and draw a new animal!
Day 26: Draw something outside.
Day 30: Draw something old.
Day 31: Draw Mrs.Buenting. Bring ALL your drawings tomorrow- I will be so excited to see your work and you again!
Note to Parents
Parents, just a note about supplies. Truly anything you have at home will work. Just keep the creative energy flowing for yourself and your little ones. If you find anything along the way that you think is AMAZING, feel free to share in the comment section!
If you have the makings and are looking for another activity to have children assist with try mixing up a batch of homemade play-dough. Here is a great blog post detailing the process:
https://www.iheartnaptime.net/play-dough-recipe/
Also, if your are placing an Amazon order and are looking for paint that doesn't require water, a brush, and dries FAST check out PlayColor. It's paint in a stick form, just like a glue stick but with paint! The children have used these in the art studio at school and really enjoy them. (I enjoy them too, wonderfully vibrant color and way less mess!!)
https://www.amazon.com/Playcolor-Set-Of-6-Colors/dp/B005XK59LM
Hello First Graders
Starting on Monday March 16, Mrs. Buenting will share a fun activity that you will be able to do at home.