Hello Room 108 Families,
We have had such a fun week of learning! I am excited to share all the fun lessons we have learned this week, as well as share some reminders!
Reminders
Masks:

Masks must be worn by both students and adults at all times on school grounds.
Please make sure you send your child to school with extra masks in their backpacks. Masks get lost and/or dirty easily. We want to make sure your child is kept safe at all times.

Blankets were sent home yesterday. Please wash them and return them to school with your child on Monday.
As we approach winter, the weather is getting colder. Please send your child to school with winter gear (heavy coat, snow boots, snow pants, hats, gloves/mittens, and scarves). Snow pants and snow boots may be kept at school and sent home on Thursdays.
Next Week at Salina AND SPIRIT WEEK!
Next week is Spirit Week at Salina! See what each day is next week:
Monday, December 13: School 8:15 AM-3:00 PM

CAREER DAY: Dress up as what you want to be when you grow up!

Tuesday, December 14: School 8:15 AM-3:00 PM

CLASS COLOR DAY – YELLOW: Dress up with the color yellow!

Wednesday, December 15: School 8:15 AM-3:00 PM

HAT DAY: Wear your favorite hat!

Thursday: NO SCHOOL! Winter Fair (8:30-9:15 AM or 9:30-10:15 AM)
Winter Fair: December 16, 2021
Winter Fair is coming up on Thursday, December 16! Winter Fair will be in our classroom. We will be playing fun winter games and making winter crafts! We are so excited to celebrate these fun activities with you and your child! There is no school for preschool on this day.
There will be two times: 8:30 AM and 9:30 AM. The 8:30 AM time slot is FULL. If you did not sign up for a time slot, you will be signed up for 9:30 AM.
To ensure a safe and social-distanced environment, only one parent/guardian may attend with their child. No young siblings may attend.
What Did We Learn About This Week?
The letter we learned this week is letter C! The students practiced writing letter C with dry erase boards. They also wrote about things that start with letter C in their writing journals (candy, camera, cat, etc.).
The Gingerbread Man came back this week to help us learn! We read two new stories: "The Gingerbread Baby," and, "The Gingerbread Friends," by Jan Brett.
As we read these stories, we talked about who the characters were in the story and what they were doing. We also talked about what the problems were in these books and how they were solved.
The Gingerbread Man helped us with our math skills! The students practiced their counting skills by picking a number card and putting the same number of buttons on their gingerbread man. He also helped us practice patterns. The students made patterns of different sized gingerbread men.
He also helped us practice science skills! The students have been interested in how to get the Gingerbread Man across the river without falling in the water. The students explored this with tin foil. They experimented with the tin foil by making a boat. The students talked about how they were making the boat and made predictions if the Gingerbread Man would float or sink. They tested their boats by putting the Gingerbread Man and their boats in a bowl of water. We talked about what was happening and how we could improve their boats.
LAHC Healthy Living!
LAHC came this week! They talked about different types of healthy fruits and vegetables to eat. The students looked at different types of fruits and vegetables and talked about how healthy they are.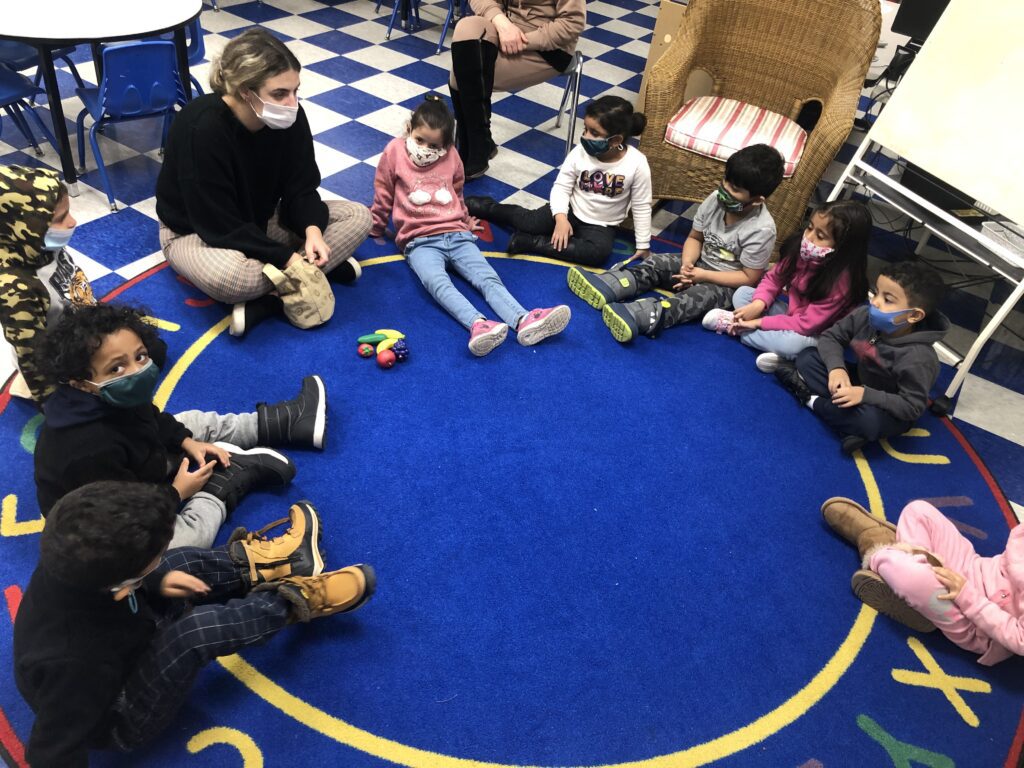 Fun Weekend Activity Idea!
Practicing patterns is an important math skill for young children! Practicing patterns now helps them identify complex mathematical patterns in later years. Find items around your house to make patterns with (forks, spoons, blocks, coins, etc.). Encourage your child to make a pattern with two items:
Helpful Links/Websites: